April 25th, 2014
Technology in Supply Chain & Logistics: Changes in the Chain Pt 3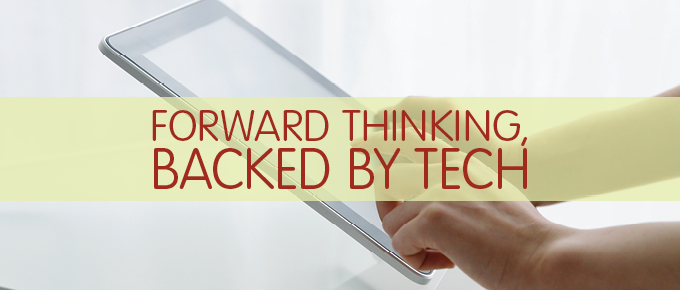 To continue our Supply Chain & Logistics series, we'll be discussing the large role of fast-paced technology in Supply Chain & Logistics. In an industry that is positioned to continue to move forward, it's important that SC&L remains ahead of the technology curve. Companies wise to this fact have already started arming their supply chain & logistics teams with the latest tools in technology to maximize their cost savings and ensure optimal levels of productivity. In this post, we'll highlight some of the most important technology in Supply Chain & Logistics used by many industry leaders.
Links in the Supply Chain Stay Connected with Mobile
Before the digital era, it was a constant challenge to keep the chain – buyers, drivers, warehouse workers – continuously connected and in-touch with one another. In this new age, mobile devices give us the ability to converge and access wireless data networks quickly and easily. Cell phones and tablets grant supply chain & logistics personnel to manage multiple steps in the delivery process virtually – no matter where they are – and at a fast pace, thanks to high-speed data and the agility of the Internet.
Although hand-held computers are still one of the contenders in SC&L technology, in recent years, they have come in second place to the smartphone. Androids, iPhones, and BlackBerrys are taking supply chain & logistics by storm with sophisticated cameras, long battery life & speech recognition, they've proven to be convenient for the industry. However, some would argue that the smartphone itself is not particularly durable for the distribution environment; for those naysayers, there are even special ruggedized smartphones on the market – perfect for concrete & harsh weather conditions. Clearly, the ease & speed of mobile technology in Supply Chain & Logistics is here to stay.
The Added Convenience of Digital Imaging & Portable Printing
In addition to mobile connectivity's handiness, there is another convenience to add to this technology puzzle – digital imaging & portable printing. In fact, in 2010, digital imaging and portable printing ranked 4 & 5 consecutively on the top 10 technologies impacting supply chain operations by Intermec. From spanning production to distribution to retail & remote service, it's clear that these technologies are paving the way to a more productive and streamlined industry.
The new technologies behind tablets & laptops have become huge assets in the supply chain industry. With integrated quality cameras, logistics personnel can secure proof of delivery, verify the conditions of products, and visually record any potential issues during distribution. Mission Foods, for example, found great success with digital imaging. The popular tortilla producer converted from manual invoices to creating them on a handheld computer, then generating a copy for their customer with a handy mobile printer. Not only did they eliminate the need to scan signed invoices for processing, but also benefitted financially and economically by using thermal printing and supplies.
As mentioned above, with portable printing solutions, customers can conveniently and instantly sign receipts upon delivery, work orders, invoices and other documentation. Thanks to technology, there is no longer a need for maintenance and budget for central locations with supplies, which is an extremely attractive value for many companies.
Tracking and Tracing with Radio-Frequency Identification (RFID) Systems
Radio-Frequency Identification (RFID) systems, track and trace solutions, have become revolutionary in supply chain management. RFID are not just barcode replacements, but also a system for ensuring the correct goods are in their proper place, eliminating discrepancies and inaccuracies. The technology behind RFIDs allows inventory within the bounds of an RFID receiver to be tagged and logged without direct access, which in turn saves hours once spent scanning each label in the inventory.
In addition to RFID, tags can contain all-encompassing information and have the ability to work in all environments – regardless of weather conditions, visibility or accessibility. RFID systems are easy to use, making them ideal for managing fast moving consumer goods (FMCG) and inventory in bulk. It's clear that the cost savings, time savings, and usability behind an RFID system make it an extremely valuable asset in the world of supply chain & logistics.
2-D Barcodes: The complement to RFID
As an alternative to RFID, 2-D barcodes contain copious amounts of information – exceeding the amount found in traditional UPC codes – in very limited space. Because the scanning area is small, but still contains a large amount of information, the items in inventory can be scanned at a speedy pace. There is also a cost-saving benefit to 2-D barcodes. These tiny barcodes are not proprietary, which opens the market for inexpensive scanners, so say goodbye to large training and overhead costs!
Real Time Location Systems (RTLS)
RTLS provides indoor tracking with extreme accuracy, as it combines the beneficial elements of GPS and RFID technologies together into one system. RTLS benefits drivers and forklift operators, as they no longer have to juggle or fumble with scanners (RFID or barcode), thus boosting workers' productivity and the safety of drivers and warehouse workers.
Increasing demand for real-time visibility in the world of supply chain & logistics has made RTLS a crucial part of technology investments, according to Inbound Logistics. Furthermore, having the ability to share real-time visibility data within the business as well as with your supply chain partner is imperative for collaboration and transformation into a swift supply chain.
| | |
| --- | --- |
| | Discuss: Technology in Supply Chain & Logistics |
| | What technologies do you find most beneficial for the Supply Chain & Logistics industry? Share with us in the comments below, and check back soon for our final Changes in the Change installment – Talent Drives the Supply Chain & Logistics Industry. Looking for supplementary information about the trends in the Supply Chain & Logistics industry? |