April 22nd, 2014
Supply Chain Growth: Changes in the Chain Pt 2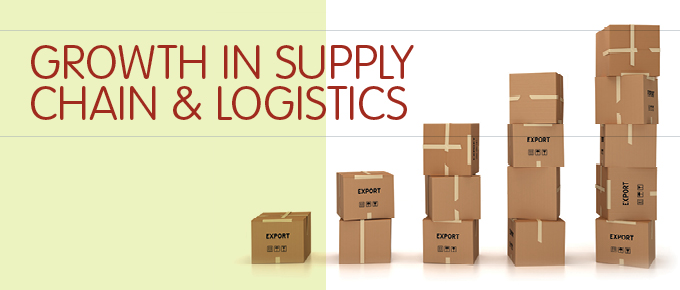 As discussed in our first Changes in the Chain post, the world of Supply Chain & Logistics is growing – 9 percent annually, as a matter of fact. By 2020, the U.S. Supply Chain & Logistics industry is projected to create 27,800 new jobs. Clearly, this industry shows no signs of slowing down, so buckle up because we've got a long road of supply chain growth.
Freight Transportation and High-Tech Industry Lead Supply Chain Growth
Globally, the Supply Chain management industry is booming. Much of this growth lies in freight transportation arrangement. From 2010-2012, the sector's sales grew an average of 20.5 percent. With lower environmental impact and lower costs, the growth opportunities for freight transportation arrangement will increase. The sector is something that Inc. has declared worth adding to the watch list.
In addition to freight transportation, companies within the high-tech and electronics industries had the most supply chain expansion from 2000-2012 with a 19% growth rate. These industries were the first to explore and embrace supply chain planning, the use of channel data, and network design, "beating out" what was thought to be an obvious industry leader, consumer packaged goods (CPG). In reality, although CPG is still a large player in the world of SC&L business, what once was growing is now at a plateau.
As the Panama Canal Grows, So Do Supply Chain & Logistics
With the 2015 tentative completion of the expansion of the Panama Canal, impacts are already evolving in 2014, according to Forbes. Shippers are already experimenting with shipping to and from East Coast and Gulf ports, which is causing a shift in investments and supply chain flows. Forbes continues to say that the shift will be supported by the resurgence of rail; some experts going as far as predicting another boom in the rail industry – unlike anything since the Gilded Age in the 19th century.
With so much waged on the success of this project, ports and shippers are investing in larger ships – like the Panamax – and expanding current ports to cater to those ships. We already are witnessing port expansion in U.S. cities like New York, Savannah, and Miami in an effort to move freight more economically and at a faster pace.
| | |
| --- | --- |
| | What are your predictions for future Supply Chain growth? |
| | What are your predictions for future Supply Chain growth? Do you, like many in the industry, foresee a "Panama Gold Rush" in our future? Leave your feedback in the comments below and don't forget to join us for our next Changes in the Chain series installment – Forward Thinking: Technology in Supply Chain & Logistics. To read up on additional insights on what's trending in Supply Chain & Logistics, download a copy of our white paper now. |