May 1st, 2014
Staffing the Supply Chain & Logistics Industry: Changes in the Chain Pt. 4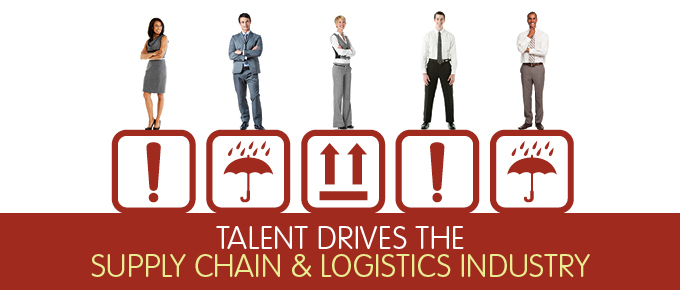 For the last installment of our Supply Chain & Logistics series, we will discuss the final & most important piece of the supply chain puzzle: Talent! Right now, there is an intense demand for qualified professionals in this industry. The right mix of logistics and technology experience is required, but extremely difficult to find when staffing the supply chain. How do we fill this gap in talent? In this post, we'll be discussing the most in-demand professionals in the industry, plus solutions on filling the gap to build your supply chain & logistics team.
Staffing the Supply Chain: The Most In-Demand Professionals
Business Analyst – The Business Analyst performs analysis of all company functions and activities to make the most effective use of money, personnel and resources.
Continuous Improvement Specialist – Continuous Improvement Specialists are masters of the process. These professionals are skilled with assessing effectiveness of the supply chain and offer recommendations for improvements in efficiency, while working closely with project managers and quality specialists.
Inventory Manager – An Inventory Manager ensures adequate inventory of products and materials in accordance with cycles and organizational philosophy. The Inventory Manager is responsible for conducting daily inventory analysts to solve issues and discrepancies.
Logistics Analyst – A Logistics Analyst plans the utilization of facilities, equipment, materials, and workers to improve efficiency of the overall operations.
Manufacturing Engineer – The Manufacturing Engineer is responsible for the planning, direction and organization of the manufacturing process. He or she will develop, evaluate and improve current methods and utilize the knowledge of product design, materials, and parts.
Master Scheduler – A Master Scheduler organizes and expedites the flow of parts, equipment and assemblies according to schedules and priorities.
MRP Specialist – A Manufacturing Resource Planning Specialist is a subject matter expert in processes where companies streamline different operational/manufacturing departments into one computer system to best maximize efficiency.
Purchasing/Procurement Clerk (Jr. & Sr.) – Purchasing or Procurement Clerks create purchase orders for the attainment of materials. They research, interview and negotiate with preferred suppliers to obtain the best prices and specifications of materials and products.
Quality Control/Assurance Manager – The Quality Control/Assurance Manager is responsible for managing, planning and organizing the quality control program, with a continued goal to ensure continuous production/service is consistent with company standards.
Supply Chain Analyst – Supply Chain Analysts gather and decipher data related to overall supply chain efficiency and cost. These professionals must be excellent at problem solving and analytics, as they must discover root problems and develop solutions to improve the supply chain and reduce costs.
Where do you find Supply Chain & Logistics Talent?
Now that we've explored the list of most in-demand Supply Chain & Logistics professionals, one question remains: Where can I find this talent? There are many resources to consider, but here are our four recommendations:
Academia: Molding Supply Chain Students into Talented Professionals
Now that Supply Chain & Logistics has become one of the strongest sectors in the American and world economies, colleges and universities are finally creating formalized degree programs for logisticians. Great institutions like Michigan State University, Massachusetts Institute of Technology, and Arizona State University are ranked tops by US News for their excellent Supply Chain Management & Logistics programs. By partnering with your local institutions, it's possible to build your own pipeline of future talent to shortly after they walk across the stage in cap & gown.
Veterans: Welcome Home, You're Hired! 
The phrase, "Your best bet, hire a vet" applies to the supply chain & logistics industry, as veterans are a great resource to have in your supply chain talent pool. The U.S. Military provides extensive training in logistics, and many members of the armed forces have been exposed to logistics while out in the field. Therefore, veterans make an excellent addition to any supply chain & logistics team, as they are ideal & strong candidates with little need for additional training. By forming relationships with local and national veteran groups, you can not only tap into this excellent talent source, but also show support & pride for your country by hiring veterans coming home from their tours.
Women: The Historically Untapped Talent Source
Historically, women have been extremely underrepresented in the Supply Chain & Logistics industry, but now with a huge push for more women in STEM, this is changing. Roughly 35% of logistics graduates are actually women. Women entering the field bring unique perspectives and skills with them, making them a valuable asset for any Supply Chain & Logistics team. In fact, two-thirds of men and women in the logistics industry believe that women have a different supply chain management style to men and these differences are advantages for most companies. By offering more career opportunities, programs for work-life balance, and promoting gender equality in the workplace, you may attract more of these professional and talented women to work for your team.
Consulting the Workforce Experts: Partner with Ajilon
Finding the right talented professionals in supply chain & logistics can be challenging for both your HR staff and your patience; however, by working with a trusted partner in staffing, like Ajilon, we can ensure that you are never lacking in supply chain & logistics talent on your team. We have a national integrated office network, recruiters dedicated specifically to supply chain & logistics, & strong relationships with thousands of excellent candidates.
Ajilon has the ability and focus to reach a larger pool of talent than many hiring managers, and the solutions we offer are extremely flexible; from temp to temp-to-perm to permanent staffing services, we can help you add the professionals you need without paying for them when you don't. Contact us to allow our outstanding team to help you build your supply chain & logistics team.
| | |
| --- | --- |
| | Keep up with the Changes in the Supply Chain Industry |
| | Ajilon has our finger on the pulse of staffing in the supply chain industry. We know the employers' needs for quality supply chain talent, and we also know the wants from those talented job seekers looking for a great career. For additional insights on the trends of the Supply Chain & Logistics industry, please check out our previous posts in our Supply Chain & Logistics blog series or check out our white paper touting the Future of Logistics & Supply Chain Management. |