April 15th, 2014
Cost Savings in Supply Chain & Logistics: Changes in the Chain Part 1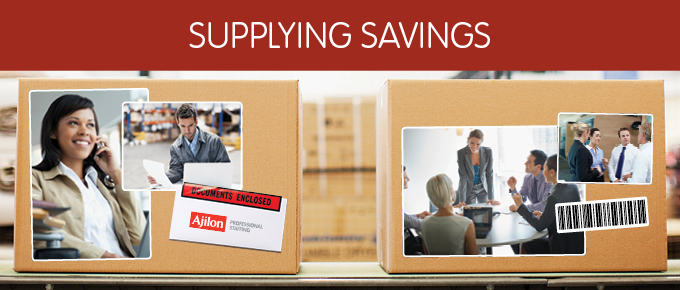 From the rear-view mirror, we see America's worst recession since The Great Depression, but in the horizon, we see Supply Chain & Logistics growing large and growing fast. Need to see the numbers? The Global Supply Chain Services industry is expected to grow 9 percent annually until 2017.
It's clear that Supply Chain & Logistics is going places. In fact, it has emerged as one of the strongest sectors of growth globally. Hop on board as Ajilon takes you on our blog series journey through the current trends and Supply Chain & Logistics, inspired by our downloadable white paper.
Implementing Cost Savings in Supply Chain to Grow the Bottom Line
Unsurprisingly, CEOs are issuing a constant challenge to their teams to save money and cut costs with the end goal to become as efficient as possible. Right now, Supply Chain & Logistics is the industry that is ready and willing to conquer these challenges. With optimized approaches to the everyday logistics behind inventory, transportation, warehousing, distribution and related activities, the company's bottom line increases, thus increasing efficiency and levels of productivity. Cost savings in Supply Chain & Logistics has become a top priority among industry leaders, and in many cases is on par with delivering inventory.
The topic of "cost savings" has been heavily discussed and debated in the world of SC&L. Quality strategies are brought to the table by companies and industry leaders everyday. In this article from Supply Chain Quarterly, customer service, sales and operations planning, and supply chain network design are touted as 3 ways that companies of all sizes and industries can effectively cut costs.
Cost Savings Case Study: NYU Langone Medical Center
To show real-world cost savings, take this example from NYU Langone Medical Center. Their head of finance set a goal to reduce supply costs by $15 million in 2011. The hospital's VP for supply chain management says the team could actually reduce supply chain costs by $22.4 million that year – well over the original goal.
How was their team able to secure such remarkable savings? Much of this was through supply negotiations and working with physician leaders. The hospital used its group purchasing organization (GPO) contract as a starting point to negotiate for better prices based on loyalty and volume. In addition to utilizing GPO contracts, NYU Langone Medical found $2 million in cost-saving success by presenting marketing data to physicians to reduce the cost of their physicians' more preferable items, despite the challenges of this approach.
| | |
| --- | --- |
| | We supply knowledge about logistics trends |
| | Thanks for reading part one of our series, "Cost Savings in Supply Chain & Logistics." In the next blog post of our 4-part series, we will discuss growth in Supply Chain & Logistics. In addition to this series, our "Changes in the Chain" white paper offers insight to the future of logistics and supply chain management trends from technology to talent. Let Ajilon supply your company with the tools and information you need to get ahead in the supply chain & logistics industry. |