May 9th, 2014
An Open Letter to Working Moms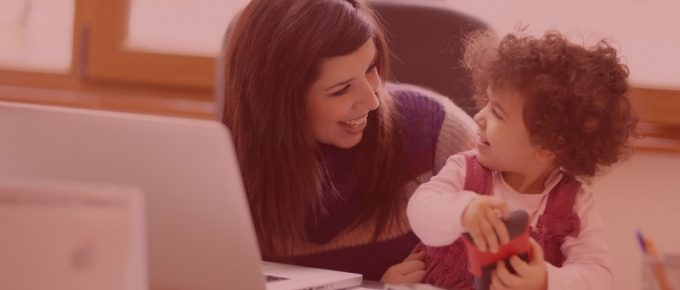 Dear Working Moms,
This Mother's Day, I figured it would be appropriate to write an open letter to working moms. In this office, I am surrounded by working moms – single moms, married moms, moms with one child, moms with four, and even moms with a little one on the way – and every single one inspires me. These moms work hard both in and out of the office to take care of their family. I can barely take care of myself, let alone two cats and an apartment; but moms, I've seen you balance work, households, checkbooks, dirty diapers and daycare day in and day out.
When I was growing up, my own mother wore a couple of different hats. When I was an adolescent, she worked as an assistant in a local law office. When I was reaching my teen years (and again in my early twenties), she was a caretaker for the elderly. Then there were several years peppered throughout my life when my mom wasn't "formally employed," but as many of you know, there's still a lot of work that comes with a "stay-at-home" role. However, the one career she held consistently – and still holds to this day – is simply Mom, and honestly, if she had performance reviews each year, she'd pass with flying colors.
My mother toted my brother, my sister and me to our various extracurricular activities. She was present for every single competition, concert and school play from Pre-K to my final semester in college. No matter what she was doing, she would immediately drop it just to let me cry on her shoulder or vent about my day. She's the best, and I'm really happy that I can call her my mom.
Moms are a special breed of people – working and stay-at-home alike. Many of them are some of the most hardworking, determined, selfless and warm people I know. Sometimes being a mom is a thankless job, but Mother's Day is the world's attempt at making up all of the missed opportunities to say thanks.
So here's to all of you moms. For every baseball game, every hour of overtime, every bedtime story, every take your child to work day, and every early morning battle to get ready for school, thank you. For every temper tantrum, every long meeting, every runny nose, every last-minute assignment, thank you. You are all stars.
At Ajilon, we place a lot of working moms in different roles – from office administrator to medical assistant to logistics manager – and this Mother's Day, we can't say "thanks" enough. Thank you for working with us. Not only are you amazing consultants, but you're also amazing moms.
Happy Mother's Day from all of us at Ajilon Professional Staffing.