February 5th, 2020
Longevity Planning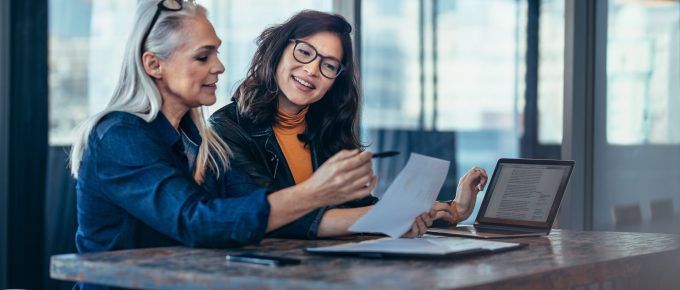 Longevity planning is growing in importance. Consider the following: Warren Buffett is 88-years-old. Supreme Court Justice Ruth Bader Ginsburg is 86-years-old. Both octogenarians are still working, considered powerful forces in their professions and in the world.
BLOG | Americans are not only living longer, but working long past age 65. Learn more about #longevityplanning and it's growing importance in the workforce: https://ajilon.co/2VWlEXe via @ajilon

Click to tweet
Buffett and Ginsburg are good examples of how Americans are not only living longer (men average 84.3 years, women average 86.7 years), but working long past age 65. It's why employers and employees need to understand that the traditional concept of retiring at a specific age is outdated, not only because older workers will need more resources financially – but because they can still be valuable workers and want to contribute past age 65.
Longevity planning for employers
There are several ways that human resources and the current workforce can better meet these changing needs.
Some suggestions for HR:
Help employees be productive for longer. Workers in their 60s are seeking ways to work past age 65. One in five Americans over the age of 65 still works and that is expected to rise. Some skills may become obsolete or evolve over a longer work life, so companies need to provide ongoing training and education to older workers.
Focus on collaboration. Put older workers in new situations working with different teams or departments. Let them use their institutional and industry knowledge to help younger workers gain perspective while also giving the older employee a chance to stretch his or her skills and learn new ideas. Employers are already reporting they fear the loss of specific company knowledge when employees retire.
Be flexible. Don't automatically assume that older workers all want the same thing. Some may want to continue working full time past age 65, while others may be interested in working part-time or in temporary assignments. Think about using them in different roles, such as mentors for younger employees or in the onboarding process for new workers. About two in five employers are currently considering offering part-time work or flexible hours to older workers by 2020.
Longevity planning for employees
Become lifelong learners. Don't wait on an employer to provide new training or education. Go back to school, attend seminars or even coding boot camps. Take online courses that boost your knowledge and skills in your industry or in other areas such as technology. Earn new certifications in your field.
Stretch your network. Actively look for ways to grow your network outside your usual channels. If you're in sales, get to know those in the supply chain or IT. Learn what they do and how they do it and how you can incorporate that knowledge into doing your job more effectively.
Speak up. Don't let an employer just assume you want to retire at age 65. If you want to keep going, make that clear. Or, devise a plan that shows how you can work part-time after age 65 and still add value. Be ready to address any concerns, such as being able to physically do a job. For example, if your mobility is becoming limited, get the training or education you need to do a job that lets you sit for longer periods. Maybe you can find someone else nearing retirement who is willing to job share with you. Put a plan in place to show the employer how it will work to their advantage by having skilled, knowledgeable and reliable workers ready to go.
Finally, employers and employees need to communicate more so that they clearly understand the needs, challenges and opportunities that exist for those nearing retirement.
"The important thing to remember is that we need to recalibrate our notion of 'best by' dates for American workers. Age is only an indicator of years spent acquiring and developing human capital assets — not a date at which you must retire," says Thomas Dowd, deputy assistant secretary for employment and training at the U.S. Department of Labor.