October 19th, 2020
Embracing Change in the Workplace: How to Help Employees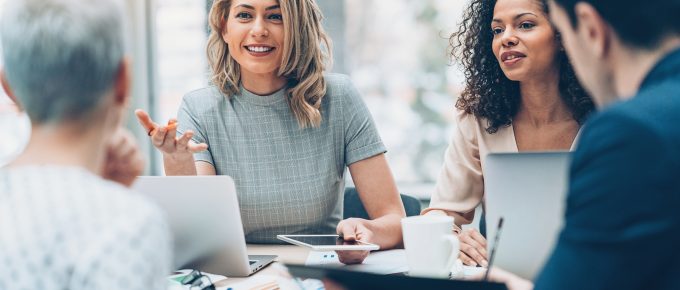 Embracing Change in the Workplace
Whether it's adopting new software or embracing the concept of
customer success
, it can be difficult to get some employees to embrace change in the workplace. Change can be frustrating for some employees. Those feelings will only linger and amplify if they're ignored. Help your employees embrace change. Start here.
Why do People Resist Change in an Organization?
Psychologists explain that humans are wired to look at anything unfamiliar as a threat. Whether that unfamiliar "threat" comes in the form of a mastodon or a new workplace process — it's scary for most humans. Which is why workers may go through a variety of emotions when confronted with change. Feelings like fear, loss and sadness are not uncommon when your employees are faced with change.
"Change can be scary for the team and showing compassion and empathy are important," says Brent Gleeson, author of "TakingPoint: A Navy Seal's 10 Fail-Safe Principles for Leading Through Change." As a leader, you must communicate clearly and show discipline. It's important to be transparent, too.
Here's how to effectively help employees embrace change in the workplace:
Explain the changes, and why they're needed up front
Encourage employee advocates
Communicate clearly
Prepare your employees
Commit!
Explain the workplace Change
One of the first ways to help employees accept change in the workplace is to explain why it's needed. For example, change can bring about greater success or help turn around a failing company. All those things will make a difference to an employee – it can mean the difference between having a job or getting laid off. Or, change can mean that a new system will bring about greater efficiencies. The benefit of embracing a workplace change like this would mean that workers will no longer have to work long hours or weekends and so get to spend more time with their families or friends.
Encourage Employees who embrace change easily
Look for early advocates. Some employees will quickly learn a new technology or immediately begin supporting a new process. These are the workers to enlist to help others who may be struggling. Asking for the help of these early advocates will boost their engagement, which can positively influence other workers.
Employees need to be encouraged to use their talents to help the change initiative be successful. Frame the change as a great opportunity that can be exciting for the team.
Clearly Communicate the Change
Identify the goals. Leaders must clearly identify the specific goals that individuals and teams are expected to meet as part of any workplace change initiative. Reaching these goals will help keep employees engaged in the process and make them feel more positive as they attain successes.
Prepare Your Employees for the Change
To do this well, you must provide the right training and support. Managers don't always have time to spend months training workers for a change initiative. But any amount of prep work can pay off for your employees. To lay the ground work, it helps to create an environment of agility. Tell your employees not to be afraid to find new ways of doing things in their day-to-day tasks. In this way, managers can lay the groundwork so employees are always focused on moving forward.
Change can be difficult, but many workers understand it's part of today's workplace environment. Some may grumble about it, but that's OK since it shows they care enough to complain. Managers, however, need to watch for the worker who becomes silent and withdrawn, since that signals a lack of engagement that can make change very difficult for the employee.
"It's tempting to withdraw when you encounter conflict, but you have to do the opposite," says leadership guru John C. Maxwell. "Look for ways to demonstrate your values as you explain your vision. The key is to be steady, positive and consistent." Managers may need to spend more time meeting one-on-one with employees embrace change.
Commitment is extremely important
"There's no being 'kind of on board': Each of your team members either demonstrate their complete values alignment or they don't," writes S. Chris Edmonds, author of "The Culture Engine." Be candid. Explain what will happen, and how resistance will effect the company. Explain  the steps you describe, and describe why they're necessary.
Final Thoughts on Embracing Change in the Workplace
For many reasons, change in the workplace tend to cause alarm for employees. It's a manager's job to ensure employees are informed as much as possible, leaving no room for confusion or muddy waters. When everyone feels like they are on the same page, and understands the reason behind a change, it's much easier for employees to embrace change in the workplace.
For more workforce insights, check out Ajilon's Employer Resources.