November 6th, 2018
5 Traits of a Successful CHRO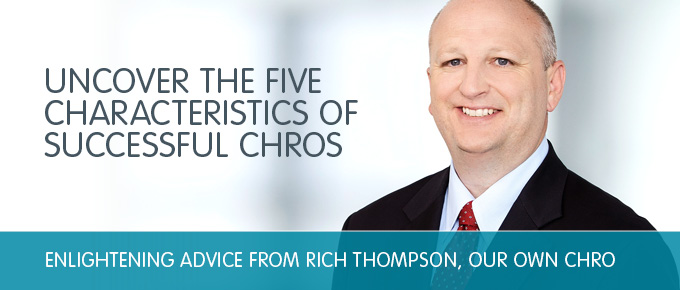 I recently had the opportunity to sit down with our Chief Human Resources Officer, Rich Thompson. We discussed the challenges and risks behind change management and important characteristics that CHROs should embody to be successful. Rich believes that the biggest responsibility in HR is to make sure the team is finding the right fit in regards to talent and company culture. Then take that talent and offer the right development support to guide them toward success.
"If we can do that, keep employees & reward them, in the long term the business can achieve the operational target that they set forth," says Thompson.
"I think that sometimes we in HR get disconnected away from real life. We get caught-up into our most recent acronym or trendy thing. In reality, it's not easy. But it comes down to, 'Are we really giving our employees what they need to be successful?'"
How can a CHRO and his or her HR department succeed with that question in mind? Thompson shares with us 5 characteristics that CHROs should embody to set themselves, their department and all company employees up for success.
Operational Thinking
A huge challenge for the CHRO is that she or he struggles to secure a seat at the strategy table and become a full member of the executive team. To achieve these benchmarks, it's important to have a solid understanding of the business' operations and its strategy. Thompson says that first and foremost, CHROs, and the HR teams that support them, must be operationally minded.
An operational thinker focuses on how things work or operate. Where-as a strategic thinker tends to look beyond the how and why. "They [CHROs] need to understand the operation & the effects of any sort of policies & procedures or hiring may have on the impact of the greater organization."
Talent-Focused with a Touch of Technical
The CHRO has evolved away from the traditional compliance/technical HR styles in recent years. Instead, they've gravitated into the talent side of HR. Thompson touched again on the fact that businesses are now focused on fit and talent: "Businesses are understanding that – again – the most important things for us to be successful are the right people, right place, right seat [at the executive table], right culture, and right leader."
Human resources skills can vary based on talent and tech. Thompson notes that many of these CHROs and HR leaders enter the company with a talent-based background, though they are still held responsible for that technical component, too.
Talent and operational focuses are two primary ingredients in the recipe of HR success.
Pragmatic or Practical Application
When discussing the impact of the HR strategy across all levels of the organization, Thompson states that there must be some level of pragmatic or practical application to any programs or policies that are being executed. The approach must be sensible to suit the current condition. A pragmatic approach is seen as more successful than an idealistic one.
A Chief Human Resources Officer cannot get hung up on fads, trends and fancy acronyms. Stay focused on your employees and stay aligned to their needs, wants and motivations.
Effective Communication
Though it may seem cliché, communication is important for a Chief Human Resources Officer's greater success. Listen, have an open-mind, provide feedback and exude transparency.
CHROs are constantly communicating with their team and the company's employees about new corporate policies and procedures, in order to help them embrace change in the workplace. Without the solid foundation of good communication, the business structure can crumble.
Adaptability
"I think alignment to the colleague base is really important as well. We need to understand – especially as we're working across generations – what motivates them to come to us. But also to stay with us because that's becoming very tricky. We are a multi-generational workforce now, and things that work for some don't work for all, so we have to be adaptable."
Not only are alignment and adaptability important with your multi-generational workforce, but they are also important for sharing and executing corporate strategies & decisions with the field – which leads us to…
Change Management: Overlooked & Underestimated
"I think we can all pass the quiz question, 'What is change management?' – but change management is often overlooked & underestimated."
For many companies across the world, the notion of change management is very alive, and it must not be treated as an after-thought. Change management needs to have an early seat at the decision table. Thompson advises that when it comes to change management, it's important to align corporate decisions with the needs and wants of those in the field. No matter the company's direction, the decision should be made and accepted across the entire business. Collaboration, execution and communication are three keys to success in handling change management.
Sometimes though, Thompson warns, we focus too much on the change itself and not on the effect of the change. This is where information and communication become a large part of change management. It can't just be what Thompson calls a "ticking of the box" exercise to get to the change, but we have to measure the effect of it. Is it the right change? What's the impact of the change? Are we arming the employees or effective group in enough time & with enough information in order to be able to manage themselves and their department through the particular change?
Answering these questions and keeping change management off the back-burner may help an HR department and a Chief Human Resources Officer become successful when navigating the waters of corporate HR.
| | |
| --- | --- |
| | Behind a Successful CHRO is a Team of Top HR Talent |
| | Now that you know the right characteristics to embody as a Chief Human Resources Officer, you need the right HR talent to back you up. Ajilon Professional Staffing has a pool of excellent Human Resources professionals ready to partner with companies like yours. Top talent is fleeting, so don't wait to secure your HR pros. |