August 16th, 2017
Millennials Blazing Trails in the Supply Chain Industry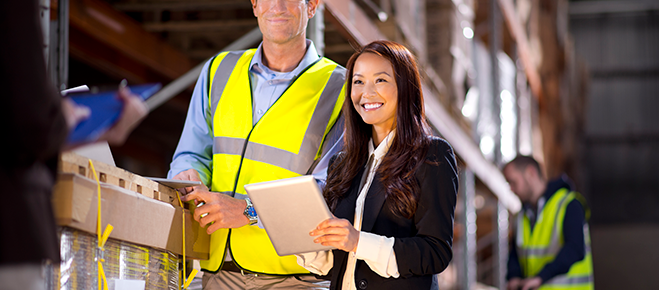 Tap into the diverse career opportunities in the global supply chain management sector!
The supply chain sector was once the domain of warehouse and distribution professionals. They guided goods from Point A to Point B; from raw materials to factory floor to store to end-user. Now, with the demands of a globalized economy, supply chain is an attractive and growing industry, especially for the under-37 millennial generation and the up-and-coming fresh graduates.
#Millennials & #GenZ in the #supplychain: http://ajilon.co/2w8gApPvia @ajilon

Click to tweet
"The supply chain industry is…full of career opportunities that can make a global impact," writes APICS' Laura Denham in Millennials Blazing Trails in the Supply Chain Industry. "From supply chain to distribution and logistics, many young professionals are unaware of the career paths available in the industry."
Conversely, supply chain industry leaders are lamenting a growing talent gap. Fronetics' Jennifer Hart Yim feels tapping the Millennials may be key to filling that skills shortage. In How Millennials are Poised to Change the Supply Chain Industry, Yim outlines how Millennials can change the industry.
Internet of Things (IoT): Being born and raised during the Digital Revolution, Millennials and Gen Z enjoy interconnected products and integrated processes.
Marketing and Sales Approaches: Millennials and Generation Z are desensitized to overt branding messages. They respond to more organic marketing, and Millennials in supply chain will likely carry these sales approaches into their work.
Global Partnerships:Ubiquitous internet access and a tendency to favor collaborative decision-making at work, create opportunities for global workspaces. This often leads to more complex industry partnerships. Millennials and Generation Z in supply chain will be at an advantage in this respect.
Big Data: Millennials are optimistic about the future and the role technology will play in shaping it, and they understand the types of information and data collected and analyzed by companies. Proper application of this knowledge by Millennials in supply chain will produce gains in operational efficiency.
In summary, Millennials should parlay these strengths into successful supply chain careers. Yet, they should keep a few key points in mind as they progress along this promising professional path. Certain skills not exclusive to supply chain are needed. Denham suggests the following strategies.
Be part of a community: Take part in a student organization, professional association, student competition or an academic committee. Visible and earnest involvement proves your dedication to the industry and to your employers.
Network: Next, learn from peers with similar (and sometimes different) interests. They may open your eyes to a whole new world of opportunities.
Attend conferences: Conferences provide young professionals the chance to connect with peers from across the globe. There you will learn best practices and gain insight into industry trends.
Develop cross-functional skills: Many individuals spend a significant amount of time developing technical skills to excel in their industry.
"As supply chain management professionals…expand and grow into C-suite executives," Denham writes, "the development of soft skills is incredibly important."(Read Denham's complete list of recommendations here.)
A Message to Employers—Get Up to Speed Now
In Kinaxis' 3 Supply Chain Career Requirements for Millennials, Kirsten Watson notes that while the supply chain management workforce currently consists mostly of Baby Boomers, these professionals are either at or on the verge of retirement. Millennials are the key to filling the approaching management gap.
"Compounding the looming departure of thousands of professionals from the industry is the fact that a shortage of supply chain talent already exists," she writes. Pointing to a study conducted by Supply Chain Insights, demand for supply chain talent is outpacing supply, despite the rise of supply chain-focused university programs over the last two decades. "That study noted 46% of respondents stated 'Talent: knowledge and availability' was their most significant business pain."
Finally, to employers looking to fill more supply chain positions with Millennials, Watson highlights two key areas to keep in mind, and they are:
First, Millennials want technology-empowered and digitally-enabled processes. Millennials' tolerance for inadequate or obsolete workplace technology is low. "Excel spreadsheets, both beloved and bemoaned by innumerable supply chain practitioners, may never completely disappear from our daily work lives," Watson writes. "But they're woefully insufficient when it comes to meeting the technology expectations of today's young professionals."
Secondly, Millennials expect collaborative work environments. While the Internet, mobile technology and social media have given us virtually unlimited access to information, networks and—other people, Millennials have lived in that environment for more than half of their lives. "[Millennials] have not only come to expect collaborative environments," Watson points out, "they rely on the power of group dynamics to make the most informed decisions."
To learn more about the different strengths of the different generations in the workforce, check out our white paper.