May 23rd, 2017
What Hospitals Are Up Against In Fighting Cybercrime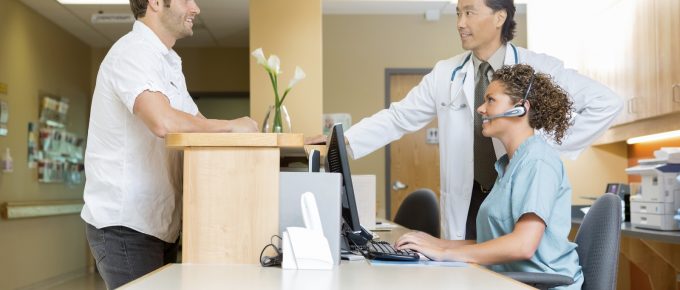 Healthcare data breaches hit an all-time high in 2016. According to research compiled by Bitglass, 328 U.S. organizations reported security breaches last year. This number is up 22 percent from the prior year, and the volume of healthcare records exposed as a result of malicious hacking is staggering. The exposed data due to breaches exceeded the combined total due to loss/theft, unauthorized disclosure and other events.
Vulnerability appears globally in 2017. A May 9 ransomware attack impacted about 20 percent of hospitals within the United Kingdom's National Health Service. As a result, routine surgeries and outpatient appointments had to be cancelled. Additionally, emergency patients had to be diverted and cancer treatments were delayed.
HEALTHCARE IN THE CROSSHAIRS
In the United States, the Department of Homeland Security considers healthcare one of the top targets for hackers. Hospitals focus on patient care, and therefore often fall behind in protecting their information systems. Those gaps create opportunities for hackers with bad intentions.
What's more, the black market treasures patient records. The "take" from a healthcare organization contains data on primary and secondary insurers. They also contain other information deemed valuable to would-be buyers on the "dark web." Intel Security explains that the price for such records is remarkable compared with other data dumps.
BLOG | Hospitals and their battle against #cybercrime: http://ajilon.co/2q8tJfX via @ajilon

Click to tweet
Healthcare data breaches often seek emails, business documents, and source code. According to IBM Security Services, this unstructured data is "big-game hunting for hackers."
STRENGTHENING DEFENSES
Government agencies want the healthcare industry to be proactive in fighting cybercrime. Homeland Security's Computer Emergency Readiness Team (US-CERT) receives reports of suspicious activity. Their goal is to gather information from others who have experienced cybersecurity incidents.
Authorities in Canada suggest the following solutions:
"Whitelisting" applications (preventing unapproved programs from running)
Protecting potentially vulnerable applications and operating systems.
Restricting administrative privileges based on user duties.
JOBS FIGHTING HOSPITAL-FOCUSED CYBERCRIME
Hospitals need to gear up for an evolving battle with cybercriminals. Those that are ahead of the curve are bringing in a variety of professionals in specific roles.
The U.S. Bureau of Labor Statistics predicts 18 percent growth in information security jobs through 2024. Jobs relevant to healthcare cybersecurity include:
Data security administrators
IT specialists
Health data security analysts
Information security managers
Interested in learning more about non-clinical healthcare jobs? Click here to submit your resume and connect with an Ajilon job placement specialist.