October 9th, 2014
Professional Staffing Jobs Report: October 2014
October's Bureau of Labor Statistics report revealed a complete turnaround from August, adding 248,000 jobs to the U.S. economy in September. This is a huge improvement from the 180,000 jobs (adjusted from 142,000 jobs) added in August. This month's job creation was focused in the professional and business services and healthcare sectors.
The unemployment rate did see a significant drop from a 6.1 percent to a 5.9 percent, the first time it has dropped below 6 percent in 6 years.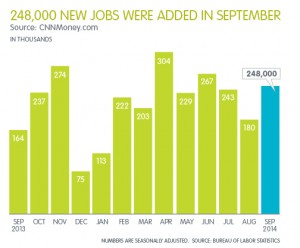 Professional & Business Services Adds Personal Best of 81,000, Temporary Help Services Also Increases
The Professional and Business Services sector was truly the front-runner this month, adding 81,000 jobs in September. With September's reported numbers, this sector has consistently flourished throughout the year. This sector is very important to the workforce, because it's an established sector for careers and long term positions, which is what the workforce economy requires in order to expand.
One sub-sector that also did exceedingly well in September was administrative and support services, which saw an addition of 58,900 jobs. Management of companies and enterprises, which is coming off of 8,000 jobs added in August, saw no gain of new jobs in September.
Temporary Help Services added 19,700 jobs in September, which at first, reflects that workers are willing to accept a temporary position until a permanent position presents itself, but this theory can be countered by the current labor participation rate.
Slight Decrease in Labor Force Participation Rate
It was reported that this month's Labor Force Participation rate actually decreased to 62.87 percent, which is discouraging seeing the overall surge of job growth for the month. Though this is just a .1 percent difference from the previous month, this is still the lowest rate our labor force has seen in the past 36 years. Economists are unsure of where it's going to go from here, but it's definitely worth keeping an eye on in the coming months, especially with the retirement of baby boomers and the incoming generation of Generation Y workers.
BLS REVISIONS show an improved August
It was quite a shock to economists when the month of August reported only 142,000 jobs were added. On a positive note, those numbers have been revised from 142,000 to 180,000 jobs, as well as a bump in July's numbers, from 212,000 to 243,000.
Stay informed about future Jobs Reports
By subscribing below, you'll get instant updates and analysis on the latest workforce and hiring trends impacting the United States job market.
[subscribe2]