November 9th, 2015
PROFESSIONAL STAFFING JOBS REPORT: NOVEMBER 2015
An employment summary based on the U.S. Bureau of Labor Statistics' (BLS) November 2015 monthly jobs report.
The U.S. economy added a stronger-than-expected 271,000 jobs, beating Wall Street's expectation of 180,000. BLS's November 6 employment summary saw a big increase over last month's weaker-than-expected 142,000 new jobs. Companies laid off seasonal workers at the end of summer, which led to dismal employment figures for August and September. However, many economists anticipated an increase in hiring close to the holiday season as retailers look to hire temp workers.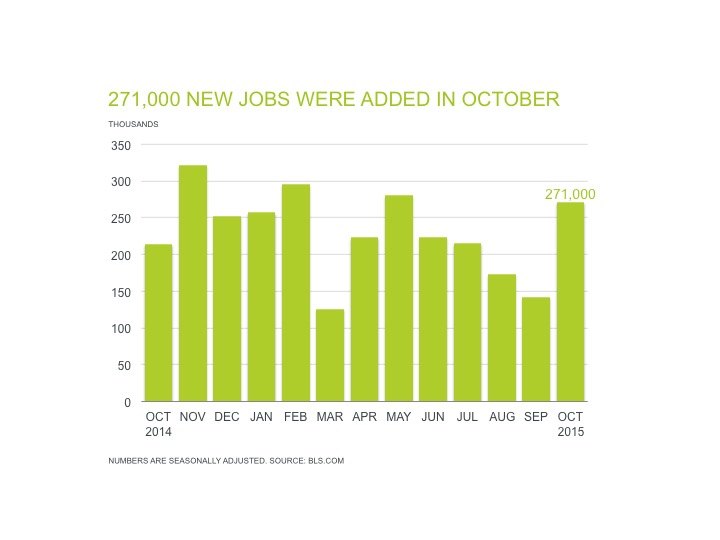 BLS revised August's and September's employment gains to add 12,000 jobs for each month. The unemployment rate remains unchanged at 5 percent, but the civilian labor force participation rate was also unchanged at 62.4 percent.
Friday's jobs report is renewing talks that the Federal Reserve will raise interest rates in the next few weeks for the first time in nearly a decade.
Breakdown of job gains
Here are the employment gains in key industries, according to BLS:
Healthcare added 56,700 jobs in October. The health industry has created an average of over 40,000 jobs per month.
Professional and business services added 78,000 jobs. Job gains has averaged nearly 50,000 per month thus far in 2015 compared with an average monthly gain of 59,000 in 2014.
Retail trade employment increased by 43,800 jobs, with an average monthly gain of nearly 30,000 over the prior 12 months.
Administrative and support services added 45,700 jobs.
Long-term projections
In the next few months, healthcare, professional and business services, and retail trade are expected to contribute large increases in job gains. While the above sectors saw robust employment gains, hourly workers are still subject to wage stagnation that are affecting the non-professional ranks.
Salaries for non-clinical health workers are expected to grow 2 to 3 percent from 2015 to 2016. Employment in health services management is expected to grow 23 percent from 2012 to 2022, according to BLS's Occupational Handbook—while the average growth rate for all occupations is 11 percent. And by 2022, there'll be 22 million workers in the U.S. healthcare industry.
Four of the fastest growing positions through 2022 are non-clinical healthcare professionals:
Medical Office Specialist: 36 percent
Medical Assistant: 29 percent
Medical Records Technician: 22 percent
Patient Representative: 12 percent
Here's the projected growth rate for other occupations (2012 to 2022):
HR managers: 13 percent
Administrative managers: 12 percent
Customer service representatives: 13 percent
Marketing managers: 12 percent
Here's a breakdown of the unemployment rates for major worker groups:
Adult men: 4.7 percent
Adult women: 4.5 percent
Teenagers: 15.9 percent
Whites: 4.4 percent
Blacks: 9.2 percent
Asians: 3.5 percent
Hispanics: 6.3 percent
Download our free 2016 Salary Guide so you can attract top talent.