May 20th, 2015
Professional Staffing Jobs Report: May 2015
223,000 Jobs added in April 2015 with unemployment rate at 5.4%, according to the U.S. Bureau of Labor Statistics.
In April, jobs in education and health services grew by 61,000 and by 45,000 in health care providers. Employment also increased by 25,000 in ambulatory health care services. Jobs in hospitals saw a 12,000 growth, and nursing and residential care facilities saw an increase of 8,000. Health care employment overall has seen a gain of 390,000 over the past year.
Professional and business services added 62,000 jobs. So far in 2015, the industry has added 166,000 jobs. Among the major component industries in April, employment in professional and technical services and administrative and waste services expanded by 21,000 and 41,000, respectively.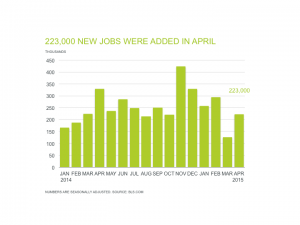 Administrative and Support Services and Construction
Employment rose by 39,000 in April in administrative and support services as a whole. Growth in specific areas within the industry included an increase of 16,000 in services to buildings and dwellings and an increase of 7,000 in business support services. Employment in temporary help services remained stable.
Construction added 45,000 jobs. Job growth was especially concentrated within specialty trade contractors, with job increases split about equally between residential specialty trades (21,000 increase) and non-residential specialty trades (20,000 increase). Employment in nonresidential building construction decreased by 8,000 in April, and construction has added 280,000 jobs over the past year.
Transportation and warehousing employment saw a growth of 15,000, with a total of 164,000 jobs added in the industry over the past year. Employment in support activities also increased by 5,000 in transportation support activities, and by 2,000 in air transportation.
In the category of durable goods, motor vehicles and parts gained 6,000 jobs; however, machinery employment dropped by 5,000, with a big portion of the decrease occurred in oil and gas field machinery. In the non-durable goods industry, petroleum and coal products gained 3,000 jobs, in a part due to workers returning from strike. In terms of weekly hours, the average for all employees in manufacturing decreased to 40.8 hours.
February and March employment revisions
The change in total non-farm employment in February was revised from an increase of 264,000 to to an increase of 266,000. March was revised from a gain of 126,000 to a gain of 85,000. With these revisions, combined employment gains in over the two months were actually lower than initially reported by 39,000. Over the past 3 months, job gains have averaged 191,000 per month.
The average hourly earnings for private non-farm employees payrolls increased by 3 cents, and is now $24.87. Average hourly earnings have increased by 2.2 percent over the past year. Average hourly earnings of private-sector production and nonsupervisory employees also trended up by 2 cents to $20.90.
Stay informed about future Jobs Reports
By subscribing below, you'll get instant updates and analysis on the latest workforce and hiring trends impacting the United States job market.
[subscribe2]