March 18th, 2015
Professional Staffing Jobs Report: March 2015
February brought 295,000 new jobs to the economy and the unemployment rate dipped to 5.5 percent, now at an almost 7 year low
According to this month's Bureau of Labor Statistics economic report, the U.S. added 295,000 jobs in February, well above the yearly monthly average of 266,000. Jobs were generated in many different industries, with the professional and business services sector, retail trade, food services, construction, health care, transportation and warehousing leading the way in job creation.
Both the unemployment rate (5.5 percent) and the number of unemployed persons (8.7 million) edged down, indicating job growth is continuing to steadily improve. The last time unemployment was this low was May 2008. Clearly, February was a strong month for the United States economy.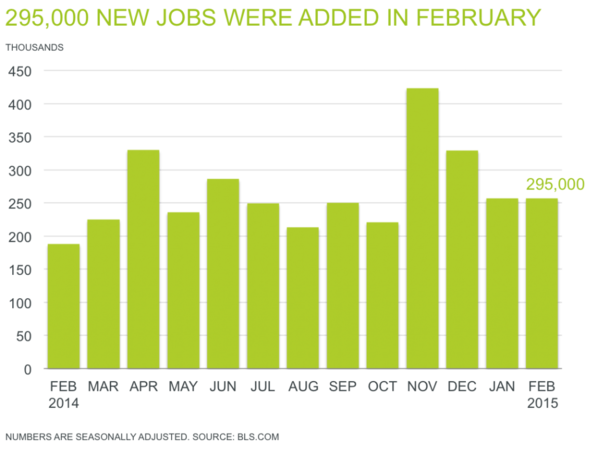 Professional and Business Services sector adds 51,000 jobs
The professional and business services sector remained a strong contributor to job growth. The sector added 51,000 jobs in February and has risen by 660,000 new jobs over the year. Some sub sectors that saw increases in employment include management and technical consulting services (+7,000), computer systems design and related services (+5,000), and architectural and engineering  services (+5,000).
The Healthcare sector also continues to bring new jobs to the economy. In February, employment in Healthcare rose by 24,000, with gains in ambulatory care services (+20,000) and hospitals (+9,000). The sector added an average of 29,000 jobs per month over the prior 12 months.
Temporary hiring numbers decreased again this month. These numbers are expected to rise once again as the tax season brings high temporary hiring to the financial services sector.
Employment in other major industries, including wholesale trade, information, financial activities, and government, showed little change over the month.
Labor force participation rate still stagnant
While employers are clearly hiring, the Labor Force Participation rate remained stagnant at 62.8 percent, and has remained within a narrow range of 62.7 to 62.9 percent since April 2014.
Even though job creation has averaged 288,000 per month over the past three months, the number of discouraged workers (732,000) remained little changed from a year earlier. Discouraged workers are those not currently looking for work because they believe no jobs are available for them.
Wages continue to edge up
Hourly earnings rose by 3 cents to $24.78. Over the year, average hourly earnings have increased by 2 percent.  The average workweek for all employees on private nonfarm payroll held steady at 34.6 hours for the fifth month in a row.
Stay informed about future Jobs Reports
By subscribing below, you'll get instant updates and analysis on the latest workforce and hiring trends impacting the United States job market.
[subscribe2]