July 14th, 2015
Professional Staffing Jobs Report: July 2015
The economy added 223,000 jobs in June, nudging the unemployment rate down to 5.3 percent—the lowest it's been since April 2008.
JUNE ADDS 223,000 JOBS, ACCORDING TO U.S. BUREAU OF LABOR STATISTICS. PROFESSIONAL AND BUSINESS SERVICES CONTINUES TO GROW, UNEMPLOYMENT RATE AT 5.3 PERCENT
The economy added 223,000 jobs in June, nudging the unemployment rate down to 5.3 percent—the lowest it's been since April 2008. Comparatively, the average monthly gain over the past 12 months has been 250,000. However, lower unemployment is primarily the result of a 432,000 drop in the labor force, which includes the people who have jobs or are seeking a job. The labor force participation rate stayed basically flat at 62.6 percent, and the employment-population ratio, at 59.3 percent, was essentially unchanged as well.
"Given that the labor force is barely growing at all, current job growth rates will continue to rapidly lower the unemployment rate," says the Conference Board.
The economy saw the biggest job gains in professional and business services (64,000), healthcare (40,000) and retail trade (30,000).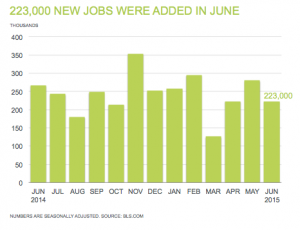 PROFESSIONAL AND BUSINESS SERVICES ADDS 64,000 JOBS
Employment in the professional and business services sector rose by 64,000 in June, contributing to the overall total of 672,000 jobs added over the past year. In this category, temporary help services jobs added a healthy 19,800 jobs, followed by accounting and bookkeeping services, which added 8,500 jobs. Legal services lost 800 jobs. Other industries that experienced job growth in June include health care, retail trade, financial activities, and transportation and warehousing. Mining, residential building and commercial banking all saw declines.
HEALTH CARE CONTINUES TO GROW
Employment in the health care sector grew by 40,100 jobs in June, which is less than the jobs growth in both May and April. But over the past year, health care has added a total of 427,300 jobs to the economy. Within the industry, employment in ambulatory care services (which includes home health care services and outpatient care centers) rose by 22,600, and will likely continue to grow as home healthcare expands. One study by Grand View Research predicted that the global market for home healthcare will grow at an estimated compound annual growth rate of 7.8% from 2014 to 2020. Hospitals added an additional 10,600 jobs.
CONSTRUCTION AND MANUFACTURING STAYED THE COURSE
Employment in these sectors was fairly static this month, with construction adding no jobs and manufacturing adding only 4,000 jobs overall. Transportation and warehousing added 17,000 jobs in June, with truck transportation leading the charge at 7,400 jobs.
TEMPORARY HELP STILL IN DEMAND
Temporary help services added a robust 19,800 jobs in June, making for a total job contribution of 157,500 spots over the past year. The temp penetration rate—or temporary help services jobs as a percentage of total employment—was up to 2.055% in June, compared to May's 2.044%. In continued positive news, 34% of hiring managers and human resources professionals plan to hire temporary or contract staff in the second half of 2015, according to a mid-year 2015 US job forecast.
[subscribe2]