February 24th, 2015
Professional Staffing Jobs Report: February 2015
257,000 jobs added in January, as unemployment stays at 5.7 percent
Total nonfarm employment rose by 257,000 last month – a surprising and pleasing number as economists predicted 234,000 jobs. This is only the second time in the last 11 years that January's numbers beat Wall Street expectations. Over the past three months, job creation has averaged 336,000, with revisions for both November and December. December's lower-than-expected 252,000 was pushed up to 329,000 and November rose from 353,000 to 423,000.
This brings the total jobs added in this period to just over one million – the highest number of jobs added in a three month period since 1997. The unemployment rate rose to 5.7% from 5.6%, mainly due an additional 703,000 Americans jumping back into the labor force to look for work.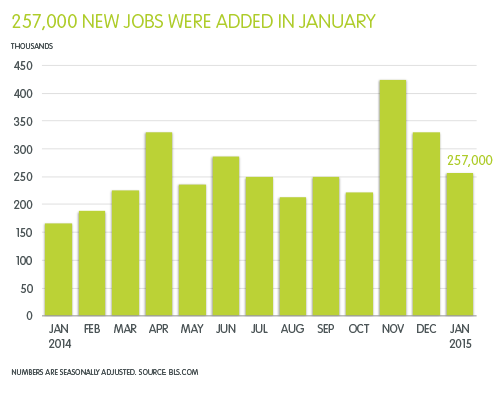 Professional and Business Services sector adds 39,000 jobs
Employment in professional and business services continued to increase this month, with 39,000 jobs added. Although this number is lower than previous months, job growth in January 2014 was just 36,000, proving that 2015 is off to a solid start.
The biggest hiring numbers were seen in retail trade, construction, health care, financial activities and manufacturing. Healthcare contributed 38,000 jobs last month, with 13,000 jobs added in offices of physicians. Temporary hiring numbers decreased this month as a result of an ending holiday hiring season. These numbers are expected to rise once again as the tax season brings high temporary hiring numbers in the financial services sector.
Monumental Gains in Wages
Over the past year, we've seen an impressive wage gain of 2.2%. In January alone, the average hourly earnings for all employees on private nonfarm payrolls increased by 12 cents up to $24.75. This was the biggest monthly increase since November 2008. Although the US has seen some deflation in recent months due to declining gas prices, economists are predicting that this is only the beginning for 2015 wages. As annual wage growth increases closer to 3%, the US economy gets closer to solid ground.
Average workweek for nonfarm payroll employees remained at 34.6 hours last month, with the average workweek for non-supervisory and production employees decreasing by 0.1 ours to 33.8 hours.
Stay informed about future Jobs Reports
By subscribing below, you'll get instant updates and analysis on the latest workforce and hiring trends impacting the United States job market.
[subscribe2]