December 8th, 2015
PROFESSIONAL STAFFING JOBS REPORT: DECEMBER 2015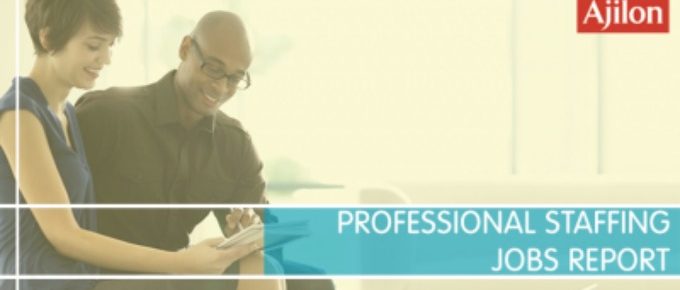 An employment summary based on the U.S. Bureau of Labor Statistics' (BLS) December 2015 monthly jobs report.
According to BLS, the U.S. economy added a stronger-than-expected 211,000 jobs in November, beating economists' expectation by 11,000 jobs. The Dec. 4 report shows that the unemployment rate remains unchanged at 5 percent. Many on Wall Street expect the Federal Reserve to raise interest rates later this month. If that happens, it will be the first rate hike by the Feds since June 2006.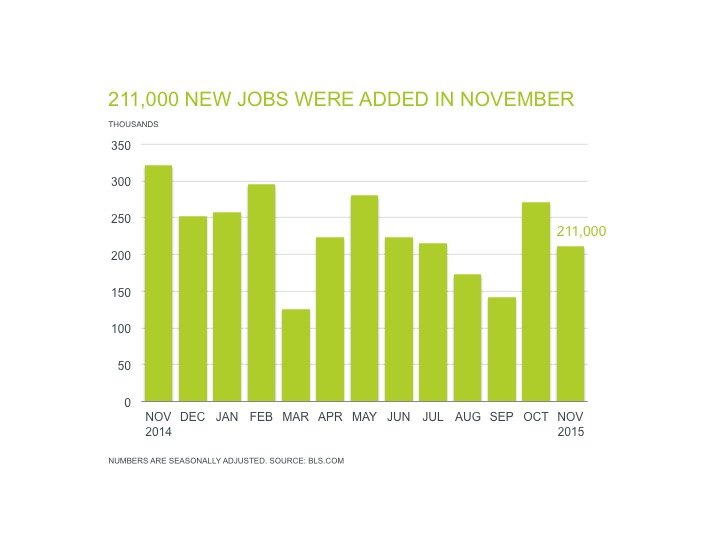 The government revised employment gains for October and September to show 35,000 more jobs than what was previously reported. Notable jobs gains by sector are as follows:
Construction: +46,000
Retail trade: +30,700
Professional and business services: +27,000
Healthcare: +23,800
Financial activities: +14,000
Government: +14,000
CEOs remain cautious
Despite the positive outlook, many CEOs from leading U.S. companies remain cautious about the economy. The Business Roundtable CEO Economic Outlook Index finds that 27 percent of CEOs want to decrease capital spending over the next six months. The survey shows that hiring plans remained consistent, but the plans to lower capital investments is the biggest anticipated reduction since 2009.
American workers continue to increase their productivity, but wage stagnation has persisted since the recession began. This week, BLS announced that labor productivity is on pace for 2.2 percent annual growth.
The Feds have openly communicated its desire to increase near-zero interest rates for the first time since June 2006. And that may finally happen in mid-December or early 2016. "The data indicate a steady improvement in the labor market that should support the Fed's confidence that now is the right time to hike rates," said Thomas Costerg, senior U.S. economist at Standard Chartered Bank in New York.
Wage stagnation
Non-professional and hourly workers will likely see continued wage stagnation—a persistent trend the last few years. Salaries for non-clinical health workers are expected to grow 2 to 3 percent from 2015 to 2016.
Employment in health services management is expected to grow 23 percent from 2012 to 2022, according to BLS's Occupational Handbook—while the average growth rate for all occupations is 11 percent. By 2022, there'll be 22 million workers in the U.S. healthcare industry.
Opportunities for healthcare workers
Four of the fastest growing positions through 2022 are non-clinical healthcare professionals:
Medical Office Specialist: 36 percent
Medical Assistant: 29 percent
Medical Records Technician: 22 percent
Patient Representative: 12 percent
Here's the projected growth rate for other occupations (2012 to 2022):
HR managers: 13 percent
Administrative managers: 12 percent
Customer service representatives: 13 percent
Marketing managers: 12 percent
According to ADP's Dec. 2 employment report, an alternative to BLS's data, private payrolls increased 217,000 in November. The manufacturing sector rebounded last month—adding 6,000 jobs in November—after two consecutive months of cutting jobs. Growth in manufacturing is seen as key to the creation of higher wage jobs in the U.S., and higher wage jobs lead to more disposable income that can provide more support to the overall economy.
Economists had expected strong job gains for November, in part due to strong hiring from the retail sector as establishments hire more staff for the holiday shopping season.
Download our free 2016 Salary Guide.