August 10th, 2015
Professional Staffing Jobs Report: August 2015
Skilled workers continue to see strong hiring demand from employers, and that's good news for job candidates with professional training and credentials. On Friday, the Bureau of Labor Statistics (BLS) announced that the U.S. economy created 215,000 jobs for the month of July—down slightly from Wall Street's expectations of 225,000.
The average monthly gain over the previous 12 months is 246,000, though the labor participation rate remains at historic lows (62.6 percent in July).
Job gains by industry
Professionals seeking career opportunities in certain industries are more likely to find appropriate vacancies. Relatively robust sectors include retail, food, health care, professional/technical services, and financial activities.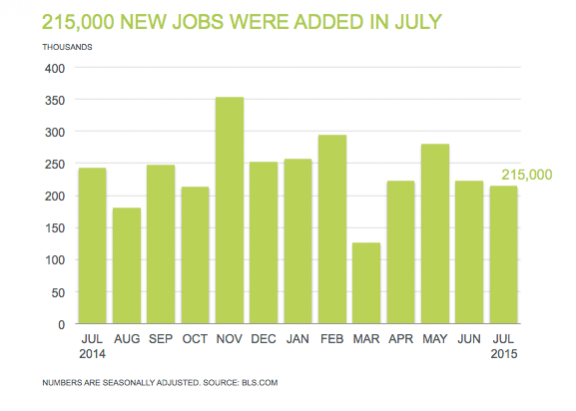 Goods-related industries—such as manufacturing, transportation and warehousing—also trended upward in terms of employment. Here's a ranking of most job gains by industry:
Retail trade: +36,000
Food services and drinking places: +29,000
Health care: +28,000
Professional and technical services: +27,000
Nondurable goods: +23,000
Financial activities: +17,000
Manufacturing: +15,000
Transportation and warehousing: +14,000
Management of companies and enterprises: +14,000
Motor vehicle and parts dealers: +13,000
Computer systems design and related services: +9,000
Architectural andengineering services: +6,000
General merchandise stores: +6,000
Other macroeconomic trends
Strong employment figures for August may lead to a hike in interest rates by the Federal Reserve—a first since 2006. Next month's BLS jobs report will be closely-watched, and may have significant economic—and perhaps political—implications.
Also, the strong dollar is continuing to do well against a basket of other national currencies, mostly favoring importers and American consumers. Commodities such as oil and agricultural products are seeing lower prices mostly due to the historic rise of the U.S. greenback.
But companies doing business abroad are seeing the value of their foreign-denominated earnings take a hit, and such organizations are being forced to revise their earnings forecasts to adjust for this ongoing exposure to currency fluctuations.
[subscribe2]