March 18th, 2013
Monthly Economic Report: March 2013
The "Employment Situation – February 2013" jobs report issued on March 8th continued to reveal progress in the U.S. job market. According to the BLS, 236,000 new jobs were created in February, as the national unemployment rate dropped to 7.7 percent, the lowest measurement recorded since December 2008.
JOBS REPORT HIGHLIGHTS
Since November, 205,250 jobs, on average, have been added to the economy per month. By comparison, 183,000 jobs on average were generated last year on a monthly basis.
February's jobs report exceeded most economists' expectations, as many projected the national unemployment rate would linger at 7.9 percent for the second consecutive month. Others anticipated 160,000 to 170,000 new jobs would be created.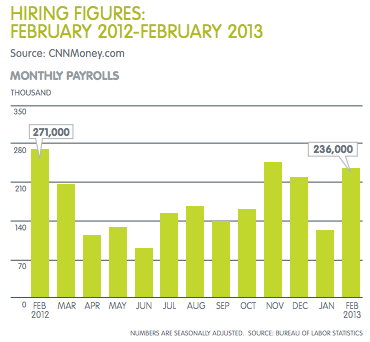 Some economists believed the sudden decline in the national unemployment rate was a direct result of the civilian labor force shrinking by 130,000 from January to February. Yet, others noted that total employment rose by 170,000 last month, while unemployment decreased by 300,000, signifying economic progress.
Furthermore, the national underemployment rate decelerated, falling to 14.3 percent. The rate includes unemployed Americans, discouraged workers, individuals employed part-time for economic reasons, and citizens marginally attached to the labor force.
In addition, the Labor Department reported that the four-week moving average for new state jobless aid claims declined by 7,000 during the week of February 25th, dropping to 348,750, the lowest level documented since March 2008.
Many economists believe such signs of economic growth will continue this spring and summer, in spite of the sequestration enacted on March 1st, sharing an optimistic outlook for the months to come.
Private sector hiring rose for the 36th straight month in February, as the sector generated 246,000 new jobs.
SECTOR CHANGES
Hiring was especially noticeable in the following sectors:
Healthcare: Since February 2012, the healthcare industry has added 301,000 new jobs to the national economy. Last month, 32,000 jobs were created; a majority of the hiring occurred in hospitals and home healthcare services.
Information: For the second consecutive month, the sector recorded a rise in employment, as 20,000 professionals were hired in February. A surprise to some economists, the motion picture and sound recording industries reported a significant gain of 20,800 jobs.
Leisure and Hospitality: Sector hiring remained steady in February, as 24,000 jobs were added, virtually matching January's employment total. Nearly 80 percent of the hiring occurred in food services and drinking places.
Professional and Business Services: Roughly 18 million professionals were employed in the sector last month, as hiring rose for the ninth successive month. 73,000 jobs were added in all, the largest monthly gain of all sectors.
Retail Trade: After reporting a net loss of 11,300 jobs last December, the sector has steadily recovered. Last month, the sector hired 23,700 professionals, leading to a total of 56,300 new jobs since the beginning of 2013.
Temporary Help Services: Hiring rose for the first month since November 2012, as the sector reportedly generated 16,000 new jobs in February. Approximately 2.6 million Americans were employed in the sector last month.
INDUSTRY INSIGHTS
The Economic Recovery Looks Like a House and a Nurse
Source: NY Mag
[This month's] jobs report in a nutshell: 236,000 new jobs, an unemployment rate that ticked down from 7.9 percent to 7.7 percent, and a bunch of data to get excited over. The figures I care most about — long-term unemployment and the number of so-called "discouraged workers," which is the name the BLS gives to people who have stopped looking for jobs because they believe none are available — remained essentially unchanged.
But most other metrics came in better than expected, and revisions to previous months' numbers generally smoothed them out in the long-term, producing a month-over-month upward jobs trend that looks remarkably steady and consistent.
The biggest lesson in the jobs report is that the recovery is still being driven by two industries: health care and construction.
February Jobs Report: U.S. Economy Adds 236,000 Jobs; Unemployment Rate Down To 7.7
Source: Huffington Post
Despite constant budget fights in Washington, the U.S. economy managed one of the best months for job gains in the past year in February, driving the unemployment rate to its lowest level in more than four years.
But the job market would be even better, and the unemployment rate even lower, had not the government spent most of the recovery cutting spending and jobs. And though Wall Street may cheer February's jobs report, the pain of government cutbacks looks to get worse as the year goes on.
U.S. employers added 236,000 jobs to non-farm payrolls in February, the Bureau of Labor Statistics reported on Friday, up from 119,000 in January. That was the best payroll growth since 247,000 jobs last November and the second-best month for job growth of the past 12 months.
The unemployment rate dropped to 7.7 percent from 7.9 percent in January, with 12 million people looking for work. That is the lowest unemployment rate since December 2008, when the rate was 7.3 percent.