February 12th, 2013
Monthly Economic Report: February 2013
On February 1st, the BLS released yet another encouraging jobs report, as nonfarm payroll employment rose by 157,000 in January with a relatively untouched unemployment rate of 7.9%, the seventh consecutive month in which more than 100,000 jobs have been added to the national economy.
JOBS REPORT HIGHLIGHTS
According to the report, 166,000 private sector jobs were generated last month, as a majority of private sectors hired new employees.
"The economy has now added private sector jobs for 35 straight months, and a total of 6.1 million jobs have been added over that period," said Alan Krueger, chairman of the Council of Economic Advisers. "In 2012, private businesses added 2.2 million payroll jobs."
"The Employment Situation – January 2013" report also included benchmark revisions, an annual practice. As a result, 335,000 more jobs were created in 2012 than originally reported.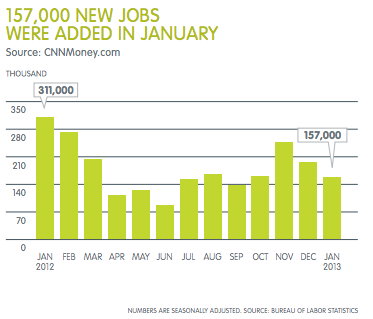 As joblessness decreased, income levels rose, another positive indication of the nation's present economic situation. According to the BLS, private nonfarm payroll employees' average hourly earnings have risen by 2.1 percent since January 2012.
Still, 12.3 million Americans are currently without work. Nearly 5 million Americans have been unemployed for 27 weeks or more. And the national jobless rate rose slightly last month, from 7.8 to 7.9 percent. To significantly lower the unemployment rate, roughly 250,000 new jobs must be created on a monthly basis, according to some economists' estimates.
Although such monthly job creation will likely not be recorded in the near future, employment did rise in recent months, as 603,000 new jobs were added to the economy last quarter, according to benchmark revisions.
If this pace of job growth continues, the total number of unemployed Americans will potentially decline to 9.9 million by the end of 2013.
SECTOR CHANGES
Hiring was wide-ranging last month, as the following private sectors reported a rise in employment.
Finance: Sector hiring continued to augment in January, rising for the 12th consecutive month, as 6,000 professionals were offered new employment opportunities. Since January 2012, hiring has increased by 107,000.
Healthcare: Nearly 14.5 million healthcare professionals were employed in January, as the sector added 22,800 new jobs to the national economy.
Information: Back in December, the sector reported a net loss of 9,000 jobs, leading some economists to believe similar figures would be documented in January. However, contrary to some projections, hiring actually rose by 9,000 positions.
Leisure and Hospitality: In 2012, the sector added an average of 26,666 new jobs to the national economy each month. The trend continued in January, as 23,000 professionals were hired.
Professional and Business Services: As usual, sector employment continued to augment in January, rising for the eighth straight month, as 25,000 professionals were hired. In all, 18.1 million professionals were employed last month.
Retail Trade: After recording a net loss of 11,300 jobs in December, sector hiring rebounded last month, rising by 32,600.  
INDUSTRY INSIGHTS
Jobs report: Steady hiring continues
Source: CNN Money
The jobs recovery continued to crawl forward at a slow pace in January, and there's little hope it will pick up any time soon.
The U.S. economy added 157,000 jobs in January, according to a Labor Department report released Friday. That's slower growth than in December, when employers hired 196,000 workers.
Call it "Groundhog Day in the labor market," said Heidi Shierholz, economist with the Economic Policy Institute. "It's the same old crap. We've been waking up to this same story for two years."
The unemployment rate was 7.9% in January, as 12.3 million people were counted as unemployed. Overall, hiring is barely keeping pace with population growth, and the Labor Department noted that the unemployment rate has barely changed since September.
Economists surveyed by CNNMoney are expecting job growth to continue in 2013 at roughly the same pace as last year, when the economy added 2.2 million jobs. They predict the unemployment rate will end the year at 7.5%.
Health Care Jobs Continue To Grow Faster Than The U.S. Economy
Source: Huffington Post
The overall recovery of the U.S. economy is still sluggish, but if you're looking for work, you'd be wise to consider the health care sector.
The health care sector added 290,000 jobs this year through November, according to Bureau of Labor Statistics data compiled by the Advisory Board, a Washington-based consulting company. In the same time period, the economy added 1.7 million jobs in total. The jobs report issued Friday shows 20,000 new health care jobs added last month alone. Hospitals, nursing homes and various outpatient clinics like physician offices led the growth in health care jobs in November, the jobs report shows.
"Health care is adding several hundred thousand jobs a year regardless of what's going on in the broader economy, but when the broader economy hits a tailspin, then that health care jobs growth stands out that much more," said Dan Diamond, the managing editor of the Advisory Board's Daily Briefing.
Over the last five years, health care job growth has outpaced employment trends overall. Health care jobs account for one out of every six of the jobs created in 2012 so far, according to HuffPost calculations.