August 19th, 2013
Monthly Economic Report: August 2013
Even though private sector job growth was not as apparent in July as it was in other months, many economists were still encouraged by the BLS' most recent "the employment situation" report.
JOBS REPORT HIGHLIGHTS
The report revealed a steady rise in hiring, as the private sector generated over 161,000 new jobs in July, the 41st consecutive month of private job creation.
Public sector employment statistics were also released. As a surprise to many economists, government hiring actually augmented for the first time in 2013, rising by 1,000. local government hiring was especially noticeable, increasing by 6,000, as 10,100 local government educators were added to payrolls.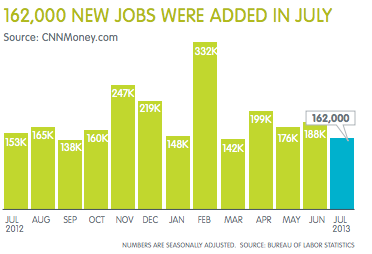 Within the private sector, hiring was widespread throughout most industries, including manufacturing and information, which had recently recorded net job losses. each of the following sectors reported a rise in hiring last month.
SECTOR CHANGES
Rising for the 40th consecutive month, private sector hiring was particularly robust within the following industries.
Financial Activities: Sector hiring continued to upsurge in July, rising for the second straight month. Approximately 15,000 new jobs were generated last month, as finance and insurance hiring increased by 12,000, whereas 3,000 new real estate jobs were created.
Information: After the sector reported a net loss of jobs in June, for the second month since April, economists were unsure of what to expect with regards to July's employment figures. However, the sector recovered last month, as 9,000 new jobs were added to the national economy. this time last year, information industry unemployment was 6.7% but is now down to 5.8%.
Leisure and Hospitality: Although hiring was not as robust in July as it was in June, the sector once again recorded a rise in employment, as 23,000 jobs were generated.
Professional & Business Services: Unsurprisingly, sector hiring once again increased last month, rising by 36,000, as 18.6 million workers were employed. A majority of the hiring occurred in professional and technical services, which rose by 21,100.
Retail Trade: Hiring continued to upturn within the retail trade sector, as 46,800 new jobs were created last month, an increase of 9,700, in comparison to June's data. general merchandise stores reported the largest increase in hiring, adding 9,100 jobs to the economy.
Temporary Help Services: Temporary help services continue to uptick, with nearly 8,000 jobs being added in July. over 191,000 temporary jobs have been added since July 2012 and the industry continues to add positions to the economy month over month.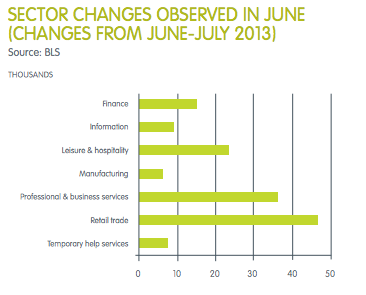 INDUSTRY INSIGHTS 
July Jobs Report: Only 162,000 Jobs Added
Source: ABC News
The economy added 162,000 jobs in July, fewer than economists expected, as unemployment fell to 7.4 percent, the labor department reported today. Many economists expected the addition of 175,000 to 185,000 jobs in July and the average workweek to remain unchanged at 34.5 hours. the average workweek fell by 0.1 hour in July to 34.4 hours.
The monthly jobs report is closely watched by investors for signs that the Federal Reserve will soon taper its bond-buying efforts that have boosted the economy, perhaps leading to a new downturn. The Fed has indicated that it will pull back those purchases, but hasn't said exactly when that will begin. Job additions have been moderate this year, but not at the level that will cause the jobless rate to fall substantially.
How Big Data Will Impact Employment & Human Resources
Source: Venture Beat
There is a growing awareness among decision makers of what big data is, what it can do, and why it's important. Put briefly, big data is what it sounds like: the collection of data that can ultimately be used to create reports that tell a richer, multifaceted story not easily discernible with existing reporting capabilities. Like any other disruptive technology, big data comes with its share of skeptics, who argue that any report, metric, or KPI tells a story and therefore big data isn't a significant business change. However, the skeptics can be proven wrong. Big data is so big that it has the potential to disrupt everything we think we know about consumer behavior, employment, healthcare, and any other sector of our lives.
For more insights into the job market and the economy, please contact Ajilon Professional Staffing today.