September 9th, 2014
Professional Staffing Jobs Report: September 2014
September's Bureau of Labor Statistics report revealed the dismal addition of just 142,000 jobs to the U.S. economy, which is the first time in seven months that there were less than 200,000 jobs added for the month. This month's job creation was focused in the professional and business services and healthcare sectors.
Though the job numbers seemed slightly grim, the unemployment rate did see a .1 percentage point drop, going back down to 6.1 percent, where it lie just two short months ago.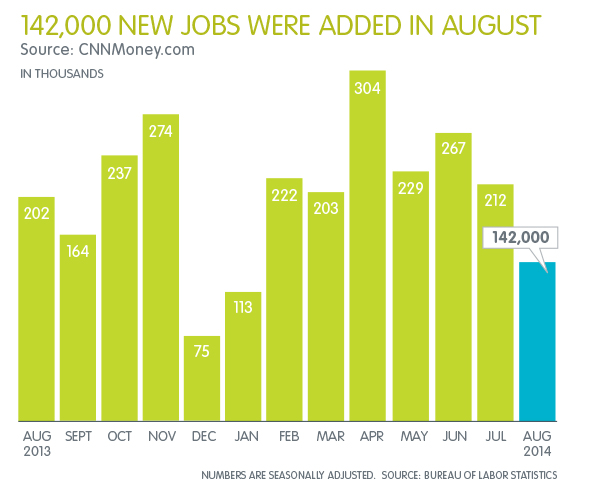 Professional & Business Services Adds 47,000, While Temporary Help Services Reaches Personal Best
The Professional and Business Services sector was truly a front-runner this month, adding 47,000 jobs in August. Over the last 12-month period, the sector has added 639,000 jobs and continues to trend ever upward. One sub-sectors that did exceedingly well in August was administrative and support services, which saw an addition of 23,000 jobs. Management of companies and enterprises also saw an impressive gain of 8,000 jobs.
Temporary Help Services did not receive honorable mentions in this month's BLS report, despite the sub-sector adding 13,000 jobs in August. However, according to Staffing Industry Analysts, temporary jobs rose to represent 2.08 percent of overall employment, setting yet another record for growth.
Labor Force Participation at 36-year Low
It was reported that this month's Labor Force Participation rate actually fell back down to 62.8 percent. Though this is just a .1 percent difference from the previous month, this is still the lowest rate our labor force has seen in the past 36 years. Economists are unsure of where it's going to go from here, but it's definitely worth keeping an eye on in the coming months, especially with the retirement of baby boomers and the incoming generation of Generation Y workers.
There is a dash of good news this month, though, as average hourly earnings rose six cents in August, and now rest at $24.53. The average workweek still remains at 34.5 hours, now the sixth month at this rate.
BLS Revisions Show Drop of 28,000 Jobs
Sadly, this month's BLS report was not short of revisions. These revisions were not in our favor however, totaling in a 28,000-job loss. For June, the BLS reported the addition of 298,000 jobs; however, that number has since been revised to just 267,000. In July, it was reported that 209,000 jobs were added, but this was recently revised to 212,000 jobs.
Stay informed about future Jobs Reports
By subscribing below, you'll get instant updates and analysis on the latest workforce and hiring trends impacting the United States job market.
[subscribe2]