September 8th, 2015
PROFESSIONAL STAFFING JOBS REPORT: SEPTEMBER 2015
In August, the U.S. economy created a weaker-than-expected 173,000 jobs while the official unemployment rate dipped to 5.1 percent from 5.3 percent the previous month. Economists had expected a 220,000 increase in new jobs.
On Friday, the Dow Jones Industrial Average fell 272.38 points, or 1.7 percent, as investors remain concerned about the health of the U.S. economy amid last month's global selloff. Jobs in manufacturing decreased by 17,000 in August, after posting gains (+12,000) in July.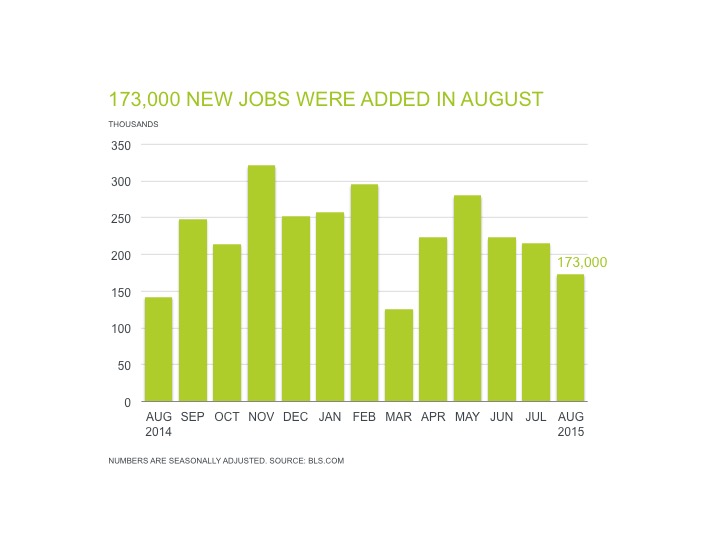 Here's a ranking of most job gains in key industries:
Health care: +56,000
Professional and business services: +33,000
Food services and drinking places: +26,000
Financial services: +19,000
"Employment in professional and business services continued to trend up in August (+33,000) and has increased by 641,000 over the year," according to BLS's Sept. 4 report.
The jobless rate of 5.1 percent is fueling speculation that the Federal Reserve may increase interest rates for the first time since 2006. The Feds will hold a closely scrutinized policy meeting on Sept. 16 and 17.
The labor participation rate provides a somber reminder of the record 94 million Americans who were jobless for the month of August—261,000 more than July. At 62.6 percent, the labor force participation rate remains at a historic 38-year low.
Modest wage increases
This past month, hourly workers saw modest gains in wages. "In August, average hourly earnings for all employees on private nonfarm payrolls rose by 8 cents to $25.09, following a 6-cent gain in July," according to BLS. "Hourly earnings have risen by 2.2 percent over the year. Average hourly earnings of private-sector production and nonsupervisory employees increased by 5 cents to $21.07 in August."
Government workers can also expect a pay increase after the turn of the calendar year. Federal employees are on track for a 1.3 percent pay raise in January, unless Congress blocks such a move by President Obama.