April 11th, 2014
Professional Staffing Jobs Report: April 2014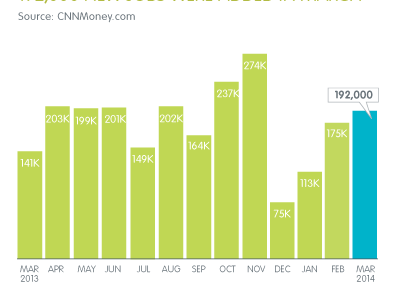 The new jobs report from the Bureau of Labor Statistics revealed that, in March, employment rose by 192,000 jobs. However, the national unemployment rate remains at a stagnant 6.7 percent.
Over the last 12 months, the number of unemployed persons declined by 1.2 million and the unemployment rate fell .8 percentage points. The average number of jobs created per month was 183,000, and March's figures exceeded that number by 9,000.
There's a "Spring" in Professional & Business Services and Temporary Employment
Now that the ice has thawed across the country, hiring is picking up and the Professional and Business Services sector is growing. The sector added 57,000 jobs in March, which is in line with its monthly average of 56,000 jobs created.
Temporary Help Services experienced the largest growth in March with the addition of 28,500 jobs. Temporary employment levels have grown 9.6 percent since March 2013, the largest year-over-year increase in temporary hiring since July 2012.
A Sign of Economic Strength: Lower Number of Jobless Claims
According to Reuters, the number of Americans filing new applications for unemployment benefits has hit the lowest level in seven years. Initial claims dropped 32,000 to a seasonally adjusted 300,000 at the beginning of April. This signals faster job growth and a strong momentum for the economy.
This drop in jobless claims, along with other positive indicators such as automobile sales and monthly BLS job numbers, have economists feeling confident that the first quarter had a strong finish. It's predicted that we will see faster growth for the second quarter, but only time – and May's job numbers – will reveal the truth.
What do you think about April's Jobs Report?
What are your predictions for May's numbers? Do you think our economic growth is as strong as predictions state? Share your thoughts with us in the comments!
| | |
| --- | --- |
| | Is your hiring warming up like the weather? |
| | Let the skilled team at Ajilon help you with your professional & business services hiring needs. From culture to skills, we can connect you to the right professional from the variety of talented candidates in our pool. The most talented individuals get hired fast, so don't hesitate any longer. |