May 5th, 2014
Professional Staffing Jobs Report: May 2014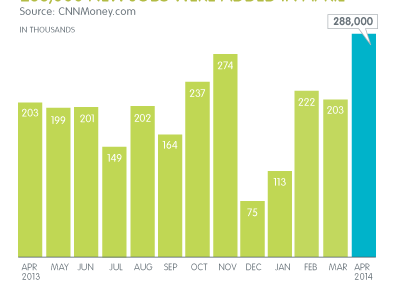 Surprise! This month's Bureau of Labor Statistics report revealed employment rose by 288,000 jobs – blowing away economists' original predictions of only 215,000. Finally, the United States saw a .4 percentage point drop in the unemployment rate after three months of sitting stagnant at 6.7 percent. The new unemployment rate is now resting at 6.3 percent, lower than the originally predicted 6.6 percent.
According to the Wall Street Journal, April goes on record as the fastest pace for job gain in more than two years for the United States. This has been the best month for job creation since January 2012, signaling a rebound from winter's icy job market conditions.
Professional & Business Services See Spike in Temporary Employment
Professional & Business Services continues to chug along above their month-over-month average; the sector added 75,000 jobs this month. At the top of the sector, we see that Administrative and Support Services added 37,600 jobs with Professional and Technical Services not far behind, adding 25,100 jobs.
The industry that really has folks talking is once again Temporary Help Services. There were an additional 24,000 temporary jobs added this month. Although this doesn't match March's numbers, it's still significantly high for the sector. We continue to see the largest year-over-year increase in temporary hiring since July 2012.
Now Trending: Declines in the Labor Force Participation Rate
According to the Marketplace Morning Report, there is a significant decline in the labor force participation rate, which may be one of the drivers behind the .4 percent drop in the unemployment rate this month. The current labor force participation rate sits at 62.8 percent, which is a decline of 806,000 persons.
Point of Note: Job Number Revisions
The Bureau of Labor Statistics mentioned some revisions in previously reported job numbers. February's figure has been revised from 197,000 to 222,000 jobs added, while March's was revised from 192,000 to 203,000 jobs added.
Feeling Optimistic about May's Jobs Report?
What do you think about May's numbers? Do you think this marks the start of a big push for the remainder of 2014? We invite you to share your thoughts in the comments below!
| | |
| --- | --- |
| | The time is right for hiring. |
| | With upward trends in hiring and downward trends in unemployment rates, the time is right to hire both temporary and full-time employees. Ajilon Professional Staffing assists businesses like yours to find quality talent that fits your company's needs for both cultural fit and skill. Don't miss out on the opportunity to work with some of our highly talented candidates, as the best are quickly hired. |