February 21st, 2018
Why Write a Post-Interview Thank-You Note?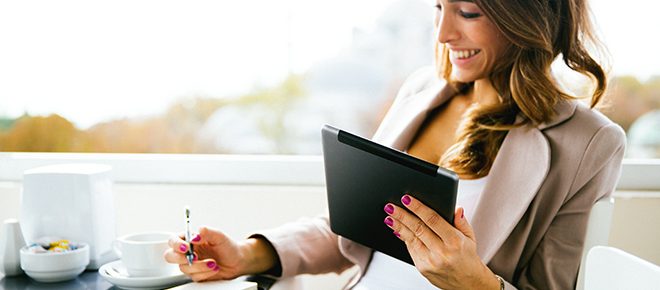 If you could implement one simple step that would ensure significantly better job-search outcomes, you'd do it every time, right? Here's the golden guidance: send a timely, handwritten post-interview thank-you note after each and every interview.
A survey of hiring managers and HR professionals uncovered that a surprising 75% of candidates failed to follow through with a personal post-interview thank-you note. More importantly, for 30% of those surveyed, omitting a thank-you note meant no further consideration for the interviewee.
BLOG | The Magic of the Post-Interview, Hand-Written Thank You Note via @ajilon: http://ajilon.co/2CxDANZ

Click to tweet
A separate CareerBuilder survey found that 56% of employers think candidates aren't really serious about a position when they fail to send a post-interview thank-you note.
WHY A HANDWRITTEN NOTE?
Wait, isn't a manual process obsolete in this age of instant communications?
Actually, no. "With everything going digital, a handwritten note is a nice change," explains recruiter Kinika Singh. "People appreciate something handwritten because it's not so often that you get a note in the mail nowadays."
The timing of postal delivery can work in your favor, too. "If you met someone on Monday and they get your note on a Thursday, you'll pop into their head again," Singh continues. "I always remember who sent me a note and who didn't. It means the person is thoughtful, professional and really cares about personal presentation."
But be sure to put pen to paper as soon as possible after an interview, and hold yourself to a standard of mailing your thanks within 24 hours in all cases.
Invest in monogrammed stationary. Custom thank-you notes and envelopes display a level of professionalism and personal taste this is bound to impress hiring managers.
Some candidates choose to send a same-day email, followed by the personalized snail-mail note. That's perfectly acceptable.
WHAT YOU SHOULD SAY
Your note doesn't have to be elaborate. In fact, it's best to get right to the point.
"Thank the recruiter, tell him or her that you are interested in the opportunities you spoke about and why you appreciate their help," advises Singh. Concerns, questions and comments about the job don't belong in this type of note, she adds.
Trainer and recruiter Andrew LaCivita recommends striking a reasonable balance in crafting your message. "The [note should be] short enough so they will read it, but long enough to include relevant substance that will keep you fresh in their mind," he observes.
In the event you interviewed with several people, send thanks to all — but guard against writing the same thing to everyone. Remember that hiring managers, recruiters and team members often share materials from candidates. Pick out a unique, meaningful exchange to highlight your message to each individual.
Additionally, if the job opportunity seems like a perfect fit, don't shy away from saying so.
CLOSING THOUGHTS ON YOUR POST-INTERVIEW THANK-YOU NOTE
Don't fret if you're not a master of cursive. Nonetheless, without exception, write neatly and legibly. It may be wise to type out your final draft and simply recreate it in writing. Also double-check the recipient's name and title via their business card or LinkedIn page. Take a moment to look up any questionable spellings or uses of language. It's better to be mistake-free than sorry.
In the final analysis, some hiring managers caution against handwritten thank-you notes, especially when interviewing at tech-oriented companies, because hiring managers only check their incoming physical mail occasionally. However, even opponents of the written form acknowledge that a truly great thank-you — whenever it arrives — will resonate, often pushing an already outstanding candidate "over the finish line" to secure the job offer.