May 26th, 2020
The Top 7 Customer Service Skills you Need to Succeed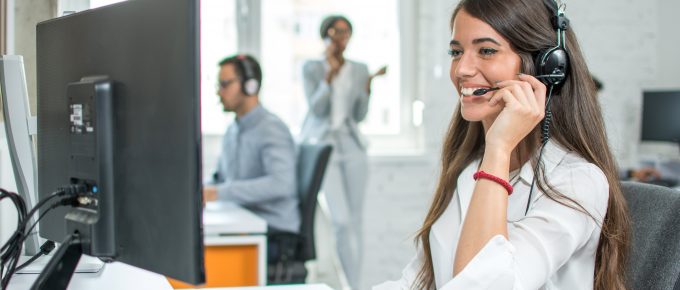 What is Customer Service?
The most straightforward customer service definition is "the act of addressing a customer's wants and needs by providing professional, helpful, and courteous assistance before, during and after a transaction occurs." Essentially a customer service professional's duty is to ensure that every customer's needs are met.
Is Customer Service Right for You?
Are you considering a career in customer service? Take a close look at the
customer service job description
and decide if it sounds right for you. Whether you have years of experience in the field or are just starting out, it is crucial to identify and attain the customer service qualities that will not only develop you into an ideal candidate, but help you achieve success throughout your career. We have defined seven important customer service skills that will help you achieve your goals.
The 7 Most Important Customer Service Skills
There are countless skills, qualities and attributes that go into the making of a customer service superstar. Our customer service skills list below provides you with the Top 7 skills that you need in order to succeed in this industry.
Positivity & Interpersonal Skills

The ability to maintain a positive attitude with confidence in your abilities can make for a successful customer service professional. When dealing with customers, factors are ever-changing and it is essential to be able to compose yourself and adapt to any situation. Good interpersonal skills enable you to avoid any social awkwardness during customer interactions. Your managers are relying on you to make a customer's experience a positive one, and your attitude can make or break it.

Superior Recall Ability

Strong customer service professionals are able to recall any and all facts about the product or service. Knowing the products inside and out will decrease your chances of getting stumped and increase a customer's confidence in your abilities. A customer's interests and questions will help you gage the amount of information to reveal, and your ability to adapt to these circumstances can help with another one of our top customer service skills, efficiency.

Intuition & Efficiency

In customer service, it is likely at times that you will have more customers than you can handle. The ability to respond quickly and accurately takes experience and intuition. Being intuitive of a situation allows you to know when to refer a customer to a different employee or department and quickly move on to the next one. The more efficiently you work, the more customers you will be able to assist.

Patience & Compassion

There will always be those customers that nobody really wants to deal with, but it is crucial to remain patient and keep smiling. Remember, customers are people too, and even if they are being unreasonable, a successful customer service professional is able to remain calm and find a way to understand the customer's point-of-view.

Self-Analysis & Adaptation Skills

Every customer has unique needs. Continuously analyzing your approach and adapting to your customers can help you identify solutions that meet their specific needs. Paying attention to a customer's reactions will guide you on how to adjust your approach to provide customized service.

Tenacity

Having great work ethic and continuously giving your best effort is a key skill in providing quality service. Doing just the 'status quo' is always an option, but seeking continued training and feedback could open the door to opportunities for growth in your career. A person who attains all of these customer service qualities, while still searching for ways to improve, is sure to achieve success.

Flexibility & Dependability

As a customer service professional, you must be able to function well in a high-stress environment while handling a large volume of customers. You are depended on to complete behind the scenes tasks while still maintaining quality service. Customer service jobs can also sometimes require non-traditional work hours, so flexibility in your schedule is a must.

Customer Service Statistics

According the Bureau of Labor Statistics, employment of customer service clerks is expected to grow by 13% from 2012 to 2022, and by 38% specifically in telephone call centers. If you identify with these important customer service skills, this rapidly growing field may be a good fit for you. Success as a customer service clerk depends upon your willingness to learn and master these skills.

Polish Up Your Customer Service Qualities

Here at Ajilon Professional Staffing, customer service clerk is one of our top five placed positions for 2014, of which we fill both temporary and permanent positions. Customer service jobs are out there, so polish up your skills and kick-start your career.