August 15th, 2014
How becoming a parent helped boost my career confidence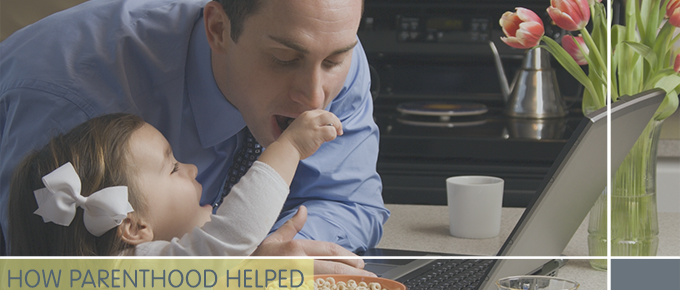 One Thursday night 15 years ago this month, my life as I'd known it was forever changed. As I lay under bright lights, hearing the sounds of OR nurses singing along to a popular Ricky Martin song on the radio followed by the first cries of my six-pound, six-ounce baby girl, I had no idea how true the words of "Livin' la Vida Loca" would ring in the coming years.
Entering the parenthood phase of life certainly brought with it detours in the career path I'd envisioned. I opted for stable office positions with good health insurance benefits over higher-paying but more volatile ones. Instead of the usual four years, completing undergraduate school took me a slow and steady 12½.
Thankfully, I've also learned that being a parent and having a fulfilling career are not mutually exclusive choices, and what I once thought of as a career setback has now become my greatest asset. I now understand how to harness that career confidence. Here are three confidence-boosting lessons from parenthood that have helped to empower my career.
Time is Precious
If, like me, you weren't born with an innate knack for time management, becoming a parent may quickly whip you into shape. Juggling my family's needs within limited amounts of time taught me to take a triage approach to prioritization. When I feel overwhelmed, I determine which tasks need to be tackled first, and I'm not afraid to delegate when necessary.
Having a child also helped me to focus on living in the moment while always moving forward. My daughter's first year was over in what seemed like an instant, and now it's hard to believe that she's in high school and learning how to drive. I've learned to be intentional about investing in relationships that matter and strategic about how I choose to spend my time. Do what you love and celebrate each milestone along the way!
You Can Do This
Much like parenting, navigating a career can seem daunting at times. You may sometimes feel unappreciated or even under-qualified in your role, or unprepared for what lies ahead. Parenthood has taught me to tenaciously move forward in spite of my shortcomings or fears. I've learned that if I can get through homework, dinner, laundry, bath time, a little quality reading time and still manage to catch a few Z's every night before repeating the whole process, nothing can stop me from delivering my best presentation or getting through all 50 pages of that dreaded spreadsheet. In the immortal words of SNL's Stuart Smalley, "I'm good enough, I'm smart enough, and doggone it, people like me!"
You are Somebody's Hero
There is no room for floundering or insecurity in parenthood. If you're holding onto the security blanket of career complacency as I once did, consider that somebody else may be looking up to you. Being a parent has given me the courage to pursue the career of my dreams, because I want my daughter to one day pursue the career of her dreams. It's boosted my career confidence and motivated me to do my best because I want her to always do her best. It puts difficult tasks into perspective, because I want her to know that she can do whatever she sets her mind to. Whenever I have a tough day and feel like throwing in the towel, I remember that I am her example, and it renews my perspective.
Whose example are you?
| | |
| --- | --- |
| | Continue to be the example by reaching for that dream job! |
| | Continue to show your kids that their dream jobs are attainable by finally getting yours. For the entire month of August, Ajilon is giving you the opportunity to win prizes by submitting your resume in our Get Back to Your Future contest. You could win great prizes like $150 to Ann Taylor or Brooks Brothers or an Apple TV with 1 year of Hulu Plus – something the entire family is sure to enjoy! |