January 23rd, 2015
Networking Tips for Job Seekers in 2015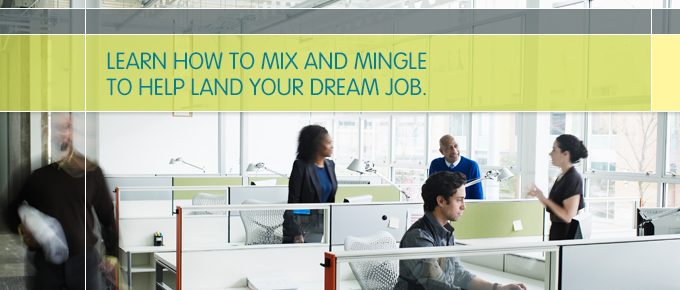 There's terrific news for skilled specialty professionals: you're in extremely high demand! Unemployment is below 6% nationwide, and is even lower than that for several key professional positions. In December 2014, the Bureau of Labor Statistics data from the Current Population Survey shows the unemployment rate for office and administrative support at just 4.8%. In general professional occupations, unemployment is less than 3%.
Of course, it's great to be wanted, and many companies definitely need your skills. But the job market has changed so dramatically in favor of qualified candidates, that it's a good idea to take a deep breath and reevaluate your approach. If your last big job search happened six years ago, when there were countless qualified applicants for every position, your approach may be out-of-date. Companies are thinking differently about the hiring process, and they want to find the right long-term hire for their business needs and culture just as much as you want to find the best match for your skills and personality.
Here are some job search and networking strategies to keep in mind as you look for your best career opportunity in 2015:
You're Always a Candidate
You can never convince a good recruiter that you're happily employed, even if you truly are. Instead, they call you a "passive candidate"—someone who wants to make a move but simply hasn't seen the right offer yet. While you must focus on your current job for obvious reasons, don't be caught off guard if a new opportunity does arise. Have an updated resume ready, be open-minded and explore all opportunities.
Everyone's Looking
During a talent shortage, companies get more creative about hiring, and they rely more heavily on word-of-mouth. Not everyone looking to hire you will be wearing a big, bright sticker that reads "RECRUITER." That means your peers and casual business partners are just as likely as a traditional recruiting professional to be on the lookout for the best, brightest talent to bring into the fold. You should never be surprised to hear a contact ask you if you're happy in your current position.
Our advice? Be prepared to handle these conversations with confidence and a clear sense of what you're looking for and what would convince you to make a move. A conversation with a trusted friend or colleague, or an independent recruiting professional, can help you put these goals and desires in perspective. That way you will be ready to meet those probing questions with confidence.
Your Next Job Audition is Everywhere
Look at your event calendar for the week. Chances are, you're going to be auditioning for your next job somewhere in there and you don't even know it.
Recruiters (and their sneaky helpers—remember, everyone's looking) are stepping out from behind the job fair booths and event sponsorship tables and mixing it up. Mingling. Partying, even. They're looking for you and they're not afraid to block off a lot of time on their calendar to find you.
This isn't a bad thing. It's not like being hounded by insurance salesmen when all you want is your free apps at the networking event. Recruiters aren't selling, they're buying—and the product they're buying is you.
Want to be found more easily? Make yourself available! Here's how to start:
Professional associations are an excellent launchpad, and it's barely an exaggeration to say that nearly every title and role you can imagine has some sort of national organization or community of interest.
Don't like the idea of just spending time with a bunch of people who have a similar job? Look for professionals with other shared interests who share your love for where you live. Neighborhood professional groups are increasingly common, particularly in dense urban areas where trained professionals live and work.
Alumni organizations are always delighted to help their graduate members move up in the world. Check in with them, let them know how you're doing (they love that) and see what they know about fellow alumni in your area.
Worried that networking is just a bunch of suits and contrived conversations? There's a whole new generation of events that have completely changed the model. Search for local TEDx events, "Nerd Nites", and other quirky networking opportunities. LinkedIn, Facebook, and Meetup are your friend here.
Companies Want You to Upgrade Their Appeal
Just because there's a talent shortage doesn't mean companies will hire the first qualified specialty professional that comes along. Because each new hire is more difficult to come by, companies know that they need each new hire to send a signal to the rest of the market—that they aren't just "a place to work," but that they're an interesting and rewarding place to work. Bringing your unique communication skills, vision and background into the fold will play a role in that process.
When you do talk seriously about a prospective job, don't just focus on projects, salary and benefits. Companies are more aware than ever of the way their culture and the opportunities for growth, happiness and meaning affect their ability to hire and retain top talent. You want them to feel that bringing you on board will not only help them complete projects and make profits, but establish a reputation as a company for which everyone wants to work.
Everything Old is New Again
Who hasn't left a job and secretly (or not so secretly) wished for the day when your previous employer was sorry they let you get away? In a talent shortage, that fantasy is often a reality. Even if you parted on less than happy terms, organizations that know you well may be pining for your return. If you do decide to strike up a conversation with a former employer or answer a lunch invitation from an old boss, be sure to carefully vet that the issues that led to your departure in the first place have been addressed. There's no point in walking back into a negative culture or a glass ceiling.
Whatever you do to expand your options during this talent shortage, keep in mind that you are the prize. Don't fear the pursuit; embrace it. Remember, it's good to be wanted.
| | |
| --- | --- |
| | Ready to open your mind to new job opportunities in 2015? |
| | |