December 19th, 2019
Improve Company Culture and Lower Employee Turnover
A poor fit – between your candidates' skills and personalities and your company's job descriptions and culture – can lead to widespread turnover. We can help ensure you are hiring the right people for your team and your culture with our new infographic.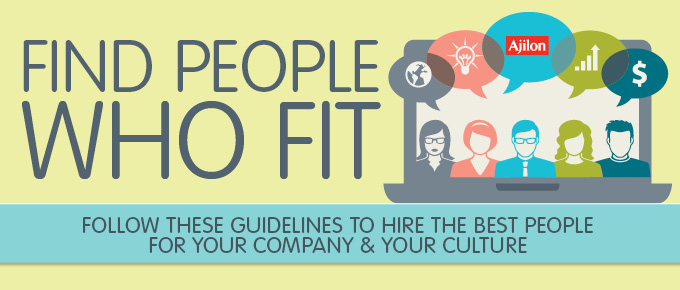 A goal of all employers should be to improve upon existing company culture, whether a great culture exists already or not. Culture boosting is a satisfying yet also business savvy move that will not only save the company money in the long run but will increase productivity, quality of work and employee happiness while, in turn, lowering employee turnover.
Employee Retention Strategies
Retaining top talent is undoubtedly a challenge for many companies across various industries. HR departments may spend many so much time trying to find the right people and that can feel like wasted effort is the company is willing to invest in their employees in order to keep them around.
There are multiple approaches companies can take to improve employee retention, some strategies may include: building competitive salary and benefits packages (check out our salary guide), hiring the right candidate, focus on leadership not management, encourage and foster employee engagement, ensure career growth and training opportunities are available, give reasons for your employees to be proud of the brand they work for, and strong onboarding.
Hiring the Right Candidate
Improving company culture begins with finding the people that meet your standards and that will make a great fit for your team. The process of hiring the right people starts with targeting essential skills. While all companies have different operating environments, goals, systems and technology in place, there are certain universal traits.
The right candidate will likely display skills valuable in nearly every setting and company, such as:
Ability to prioritize
Works well in teams
Organizational awareness
Effective problem solving
Self-awareness
Being proactive
Ability to influence
Effective decision making
Learning agility
Technical savvy
Hiring for Culture Fit
When it comes to boosting retention and productivity in your office, hiring the right personalities is just as vital as hiring the right skills. Thus, before starting your search, determine which personality attributes are likely to excel in your organization.
For example, some companies may prefer candidates who work best in a team, while others prefer independent workers. Some additional things to consider include whether your company is fast-paced or relaxed; whether communication is written or verbal; if you have a collaborative team environment or a competitive one.
By targeting candidates with personalities that match your culture you will greatly increase your chances of hiring the right people.
How to Interview with Ingenuity
In order to really uncover a potential candidate fit, you must ensure you are asking the right questions during an interview. Instead of asking questions like, "How would you?" ask questions that being with "How have you?" Be sure to solicit strong and detailed responses, and ask for relevant references. To keep you and your interviews on track, consider creating a scorecard before the interview. The scorecard should list the outcomes that the person you hire must be able to accomplish and a set of skills that they must display.
All of these tips will help ensure you are hiring the right people, upgrading your talent, improving your culture and retention while lowering employee turnover in the process.
For more tips you can use to add top talent and hold onto them for the long-term, check out our article, "Recruiting, Retaining & Inspiring A Multigenerational Workforce."
Get better advice and find the right talent with Ajilon Recruitment Agency today!


Get better advice and find the right talent with Ajilon Recruitment Agency today!