December 4th, 2019
Strong onboarding as a retention strategy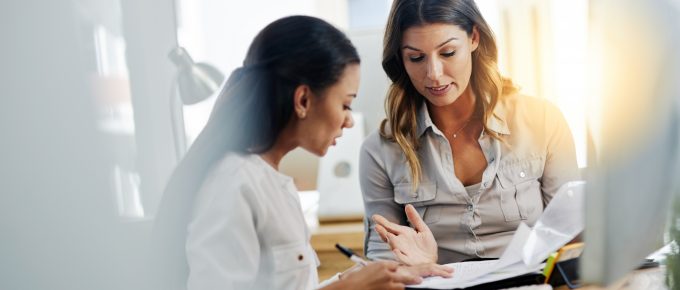 At the recent Society for Human Resource Management (SHRM) Annual Conference and Exposition in Las Vegas, attendees participated in nearly 200 sessions filled with inspiration and actionable solutions. Yet one of the themes we heard over and over again is how a strong onboarding program aids in employee retention.
BLOG | How can an effective onboarding process contribute to high retention? Let us count the ways: https://ajilon.co/2yUoYst via @ajilon

Click to tweet
With unemployment at all-time lows across the nation and demand for qualified professionals at an all-time high, employers must do everything they can to help valuable talent feel welcome and engaged. So how does onboarding improve retention? And what can organizations do to ensure their onboarding process helps employees feel like part of a caring team?
How strong onboarding improves employee retention
Successful onboarding isn't just a "nice to have." In today's workforce, it provides a competitive edge. According to the SHRM, "69 percent of employees are more likely to stay with a company for three years if they experienced great onboarding."
Why?
Increases comfort
It's not always easy being the new kid on the block, but an effective onboarding program helps the transition from candidate to employee feel like a natural evolution.
Hiring is a high-energy time for new employees; there's enthusiasm for a new role and how they'll contribute. Switching from the energy of the hiring process to days of paperwork and dry orientation manuals or throwing a new employee into work without training or introducing them to the rest of the team dampens that enthusiasm and leads to disappointment, low engagement and motivation to seek opportunity elsewhere.
Optimizes performance
Research from the Brandon Hall Group found that a strong onboarding process increases employee productivity by 70% compared to those with weak onboarding programs. Onboarding helps employees feel more engaged in their work, tap into their employers' mission, vision and culture, and comprehend their role in the company.
Tips for successfully onboarding new employees
If you've realized your current practices aren't setting the right tone with new hires, here are some tips for improving the onboarding experience.
Hit the ground running. Preboard new hires in the period between signing the offer letter and day one on the job. Have key contacts, such as their manager and new team members reach out via email to welcome them to the team. Set up email and invite them to ongoing meetings and one-on-ones so they don't start day one with an empty inbox. Make sure their workspace is clean, well-stocked with supplies, and all hardware, software and other equipment are working so they don't spend their first days dealing with technical failures.
Focus on culture. During the first day of an employee's tenure, introduce them around, especially to managers and executives. The more high-level team members they meet, the more welcome they will feel. If it isn't possible to do this in person, video conference works as well. Have the people you introduce them to talk about company culture, vision and core values.
Set expectations. Many organizations create a checklist of paperwork the new hire needs to complete and software programs they need to access, but onboarding extends beyond the first day or week of their employment. Identify expectations for learning and accomplishments over their first six months on the job and have a supervisor review this checklist with the new employee weekly. This ensures your new hire receives the proper support to reach their goals.
Train the trainers. Often, experienced employees are tasked with training new employees. However, if those employees have no experience or aptitude for training, or aren't aware of what they should be teaching, there is a breakdown in the training process. Make sure trainers know exactly what they need to teach so everyone can be more successful.
Go digital. Invest in onboarding software to provide a personalized, streamlined onboarding experience. There are several options out there, from simple checklists to comprehensive tools that integrate with payroll and benefits. Look for solutions that make onboarding fun and engaging while still being informative.
Employee onboarding lays the foundation for a healthy, lasting employer-employee relationship. Engage with your new hires from the moment they sign an offer letter, be clear about expectations, and quickly integrate them into the company culture. This will get them off to a great start with your organization and improve your chances of retaining employees who are highly motivated, engaged and committed to your company.
Make sure to check back next week for the second piece in our three-part series from SHRM: Preparing for Gen Z.
To onboard like a pro, let us help.