March 31st, 2020
How to Write a Performance Review for an Employee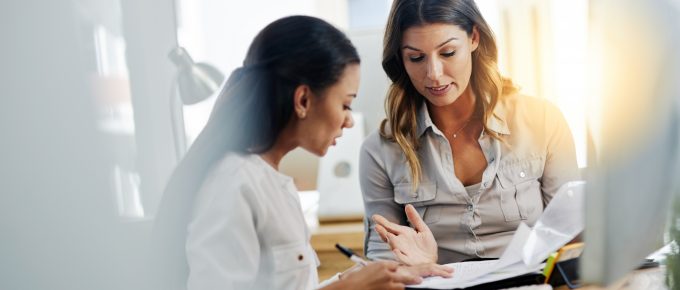 Many managers have fallen into bad habits when it comes to employee performance reviews, leading to assessments that are often unhelpful to the employee, unbeneficial to the organization and unpleasant for both the employer and employee.
But it doesn't have to be that way. With some planning, performance reviews – both negative and positive – can become a way to re-engage and re-energize workers. These reviews can become a way to develop a closer bond between the manager and the employee and can lead to better bottom-line success for the company, employee retention, and improved company culture. Read our full guide below on how to write a performance review for an employee.
Things to Avoid for a Successful Performance Review
One of the bad habits that managers fall into regarding performance reviews is trying to do them hurriedly or at the last minute. Or, the reviews aren't really a roadmap of where the employee needs to go, but rather a laundry list of "good" and "bad" performance issues that don't really provide the employee with any insight on how to be more successful.
Also, a performance review shouldn't be a one-sided conversation with the manager doing all the talking. A manager needs to actively engage an employee by asking questions to solicit feedback from the worker and gain a better understanding of how the employee contributes and his or her goals for the future.
Questions to Ask During a Performance Review
As noted above, having an open and honest conversation with the employee is an important part of the performance review. Here are some useful questions to get the conversation going:
What has been your greatest accomplishment at work?
What do you hope to accomplish over the coming year?
What position at the company do you want to move to next?
Where do you feel there's room for you to improve?
Is there something about your role you would change?
Do you feel the team works collaboratively?
What strengths do you have that you feel we aren't utilizing?
What motivates you to get your job done?
Are you being given enough feedback?
What's one thing I can do to better to support you in your role?
Performance Review Tips
When considering what to write in a performance review, managers need to think about:
Being specific.

This is why documentation of an employee's performance is important – if you believe the employee shows a real talent for handling difficult customers then you should be able to point it out by citing a specific incident. Or, if you believe the worker has trouble collaborating with colleagues, you can mention a project that was held up because he or she didn't share information with co-workers. This is much more constructive than just saying, "Doesn't work well with others."

Covering the bases.

There are several areas that need to be discussed when you're thinking about how to write a performance review, including quality and accuracy of work, dependability, attendance or punctuality and communication skills. You also need to touch on the employee's ability to work on a team, comply with company rules, reach professional goals and solve problems.

Including strengths and weaknesses.

Performance reviews need to be balanced. Even the best employee probably has areas that need improvement and a troublesome employee still has strengths. It's the manager's job to ensure that an employee who needs improvement is given clear steps toward boosting his performance or how he can overcome a weakness. For example, a strength might be: "He helps coworkers with their tasks even if they are outside his direct responsibility." On the other hand, an area of improvement performance review example might be: "He is easily upset when not offered assistance when he feels he needs it. He does not help others."

Setting goals.

A manager needs to review the previous year's goals with the employee to see areas that were improved or those that have changed or fallen short of the objective. Then, the manager and the employee should come up with goals for the coming year. This should really be a roadmap for the coming year – the employee knows areas that need improvement and the manager is clear about areas where the worker needs more coaching or training.
Performance reviews are often an anxious time for employees because they're unsure of what to expect. But if the manager is well-prepared, then the worker will see the commitment by the manager in ensuring he or she is successful – and that leads to a greater commitment by the employee to the team and the company.