April 28th, 2017
5 Taken-for-Granted Ways Your Office Admins Improve Company Culture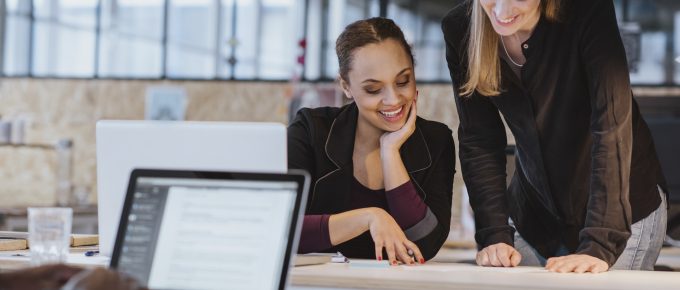 Administrative professionals are key to business operations. From receptionists to secretaries to office managers, we all rely on office administrators to some extent, and probably more than we think. Why more than we think? Well, because they're not just managing admin tasks; they're managing company culture. They're almost like CCOs—chief culture officers. And CCOs affect our job satisfaction and happiness in more ways than one.
5 ways administrative pros shape company culture: http://ajilon.co/2oT6ZMx via @ajilon

Click to tweet
They make company culture pleasant.
You know that bowl of chocolates you just can't resist? What about that fridge that's always stocked with distilled and sparkling water? Or that cabinet with an endless supply of those awesome Pilot Pens? Remember everyone having a blast (maybe too much of a blast) at last year's holiday party? These "little things" make a big difference, right?
They always remember everything.
It's impressive that admins keep calendars with so many dates. Think about it. They always remember your birthday, your co-workers' birthdays, and all of your anniversaries. Literally every time a new employee starts, they immediately make calendar updates. And when this date or that date rolls around, you inevitably have a card and cupcake sitting on your desk. Talk about a sweet morale booster!
They act as the glue to the office.
There are lots of ways an office can come unglued. "No, Internet's down!" Who's on the phone with the provider? The office manager. "Ugh, I have to ship this overnight but don't even have our UPS login." Who has the login—and probably preps, prints and sticks the label for you? The receptionist. "What? The printer's not working!" Who's on the phone with the vendor, or even fixing it on their own? You guessed it.
They communicate—in lots of ways.
Internal communication is frequent in all companies, and admins have to consider it, deliver it and answer to it. From important corporate announcements originating in the most spacious corner offices to annoying "out of order" announcements from maintenance, administrators are in the know—and let all of us know in a convenient and immediate fashion.
They do way, WAY more than their job descriptions.
Job duties:
Answer and transfer calls
Record messages
Manage office inventory
Organize mail and deliveries
Coordinate internal events
Actual job duties:
Answer and transfer calls… and provide customer service
Record messages… and return calls
Manage office inventory… and constantly make last-minute store runs
Organize mail and deliveries… and help basically everyone package, ship and track
Coordinate internal events… and external events and executive events
Office admins really are Jack-of-all-trade CCOs. They always seem to resolve anything at anytime and just make the office better. What would we do without them? More importantly, what can we do for them? Like anyone, they love flowers on their desks or personal cards from the entire office, especially during Administrative Professionals Week. But the most meaningful thing we can do for them is to NOT take them for granted by appreciating them, applauding them and thanking them year round.