March 15th, 2017
How to Get Lucky with the Perfect Job Fit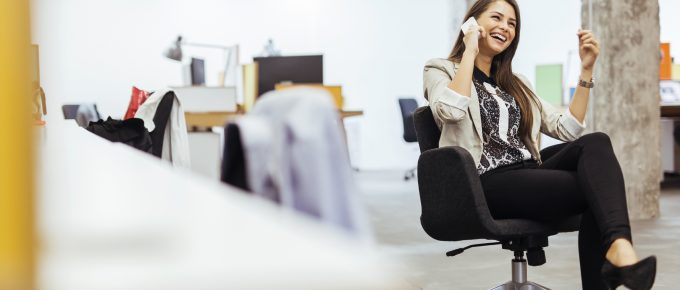 Be one of the lucky ones who loves their work.
Messaging about the "luck of the Irish" always accompanies St. Patrick's Day celebrations. Surprisingly, though, the phrase isn't really a nod to good fortune, despite contemporary tie-ins to four-leaf clovers, horseshoes and leprechauns.
"More than 900 years of domination, oppression, starvation? I'm kind of hard-pressed to understand where it comes from," says Edward T. O'Donnell, who teaches Irish-American history at Holy Cross. Originally a slur directed at Irish miners during America's 19th century gold rush, the expression ascribes success to luck rather than hard work or talent.
Over the years, however, the saying has transformed into a tribute to Irish perseverance. The change follows popular opinion: 86 percent of adults surveyed by Rasmussen Reports said success in life is primarily determined by choices and actions rather than luck.
And that's a useful outlook when considering new career opportunities. Here are some further suggestions on how to "make your own luck" while searching for the perfect job.
Make your own luck to find the perfect #job: http://ajilon.co/2nEyZ5k

Click to tweet
WORK WITH A RECRUITER
A recruiter can help you identify and focus on your career goals to land the perfect job. In light of the ongoing talent shortage across many industries, don't worry about being pushed toward a position that doesn't match your interests. "Recruiters aren't selling — they're buying — and the product they're buying is you," advises the Job Seeker thread on Ajilon's blog. Additionally, recruiters have connections — key people at leading companies and professional associations. These connections often get you access to attractive jobs before they're even posted.
BE OPEN TO COLLABORATION
When meeting with a recruiter, you'll have a chance to talk about your capabilities and what you'd like to be doing in your perfect job. Be as honest and forthcoming as possible so that the recruiter knows which types of opportunities will be right for you. Also, be receptive to the recruiter's recommendations on how to make your resume stand out to hiring managers.
If you're unsure about any aspects of a prospective job, don't be shy about asking for more information. Getting answers to your questions will help you make the best possible decision. Keep in mind that a good recruiter will want to build an ongoing relationship to help you achieve your career goals and aspirations.
PREPARE TO INTERVIEW
Sure, interview questions can be tricky. How many people really know what they'll be doing five years from now, right? All the same, potential employers expect you to listen to what they're asking and be ready with meaningful replies. This guide provides sample answers to some of the most frequently asked questions. While this is a helpful prep tool, take time to tailor responses to your work history and the position's requirements. And don't forget to practice so that you'll sound polished and confident when put on the spot.
Remember that being proactive in your job search beats being lucky any day. Regardless of your career stage, strive to keep up with the latest career resources and tips. Check out Ajilon's list of top 10 professional jobs for 2017, along with titles, descriptions and salary ranges, by clicking here.