January 22nd, 2020
14 Tips to Help You Ace Your Interview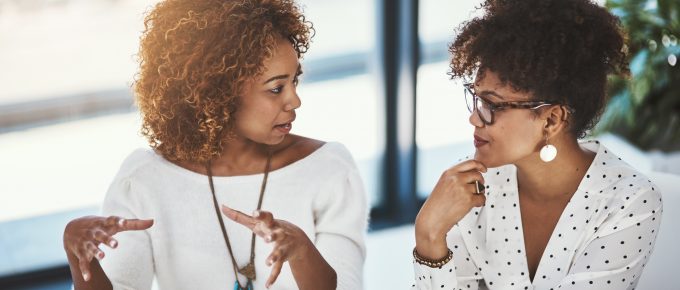 Most people make two devastating mistakes when being interviewed: failing to listen to the question and attempting to answer questions with virtually no preparation. Practicing for your interview is a key component in the application process and can make or break your chances for getting the job you want. We have some interview tips to help you nail it.
Below you will find fourteen of the most frequently asked interview questions, regardless of job classification. Study these example Q&A's carefully and develop a strong response for each one; make sure to tailor your answers to your own work history as well as the position to which you're applying.
1) Why do you want to work here?
Because you have done your homework on the company, you know exactly why you want to work there. Just organize you reasons into several short hard-hitting sentences. Ex: "You make the best product on the market today. Your management is far-sighted enough to reinvest the company's profits so that you will soon be the leader in this category."
2) Why do you want to change jobs?
This is one of the first questions interviewers ask. Be sure you are ready for it! If you are currently in a dead-end position, locked out of advancement opportunities, explain this. The interviewer will understand. If your job has become routine, and void of learning experiences, say so. If you feel your present employer is losing ground to competition through no fault of yours, the interviewer will also accept that.  Choose your words carefully; instead of saying that you hate your boss, try phrasing it as "unfortunately, the culture of our department has changed".
Big #interview? Congratulations! Now, read on for 14 tips to help you ace it: ajilon.co/29lrHht

Click to tweet
3) What is your dream job?
Here the interviewer wants to learn whether or not this role is truly on target with your ultimate career goals. While you could get a laugh with a funny response (famous actor, international royalty), the employer is really looking to learn more about your goals and long term ambitions—and why this opportunity will help you on your way to them.
4) What interests you most about this position?
Give a truthful but brief answer showing the interviewer your profound knowledge of the company.
5) What is your greatest strength? (Have at least 3 strengths to share)
Isolate high points from your background and build in a couple of the key value profiles from different categories. You will want to demonstrate pride, reliability and the ability to stick with a difficult task yet change course rapidly when required. You can rearrange the previous answer here. Your answer in part might be: "I believe in planning and proper management of my time but I can still work under pressure."
6) What is your energy level like? Describe a typical day.
You must demonstrate good use of your time. You believe in planning your day beforehand and that when it is over, you review your own performance to make sure you are reaching the desired goals. No one wants an employee who's not committed to a job well done, so you should sell you energy level.
7) How have you helped sales/profits/cost reductions?
Have your hero stories ready and be willing to prove that you have made significant contributions in one or more of these basic areas. Keep your explanations short and try to include specific amounts.
8) How many people have you supervised?
Similar to the "hired/fired" question, the interviewer is trying to determine the depth of your experience. Do not exaggerate!
9) What are the reasons for your success?
It is best to keep this answer very general, permitting the interviewer to probe more deeply. Offer a short list of positive character traits that describe YOU. Ex "I like to work hard." "I get along with all kinds of people and I know how to listen." or "I pay close attention to details; I know how to watch costs and keep difficult customers smiling."
10) What would you like to be doing five years from now?
To answer this question, make sure you know exactly what can or cannot be accomplished by the ideal candidate in your shoes. Too many job-hunters butcher this question because they have not done their homework and have no idea where their career will lead them. If you see yourself at another company or in another department of the company you are interviewing with, then tread lightly.
11) How long will you stay with the company?
A reasonable response would be, "As long as I continue to learn and grow in my field."
12) What kind of experience do you have for this job?
Summarize four or five key areas of experience you know you can bring to your new job. Demonstrate how each one will help the interviewer's company solve their problems. For example, "My experience in new product introductions will be very helpful to your entire marketing effort" or "My industrial design background will strengthen yours sales-force capability in dealing with large clients."
13) What training/qualifications do you have for a job like this?
Deliver a short, fact-filled summary of your two or three most important qualifications/strengths. "I have a background in accounting. I've demonstrated proven selling skills. I'm capable of handling several projects simultaneously."
14) Why should I hire you?
The interviewer does not want a lengthy regurgitation of your resume. They do not want a barrage of facts and figures. They are interested in testing your poise and confidence. Be ready to talk about your skills, passion and how this job will help achieve your professional goals.
Still searching for a great career? Contact one of our recruiters and get matched with your perfect job. Apply today.