April 7th, 2021
Creating the Perfect Tickler File System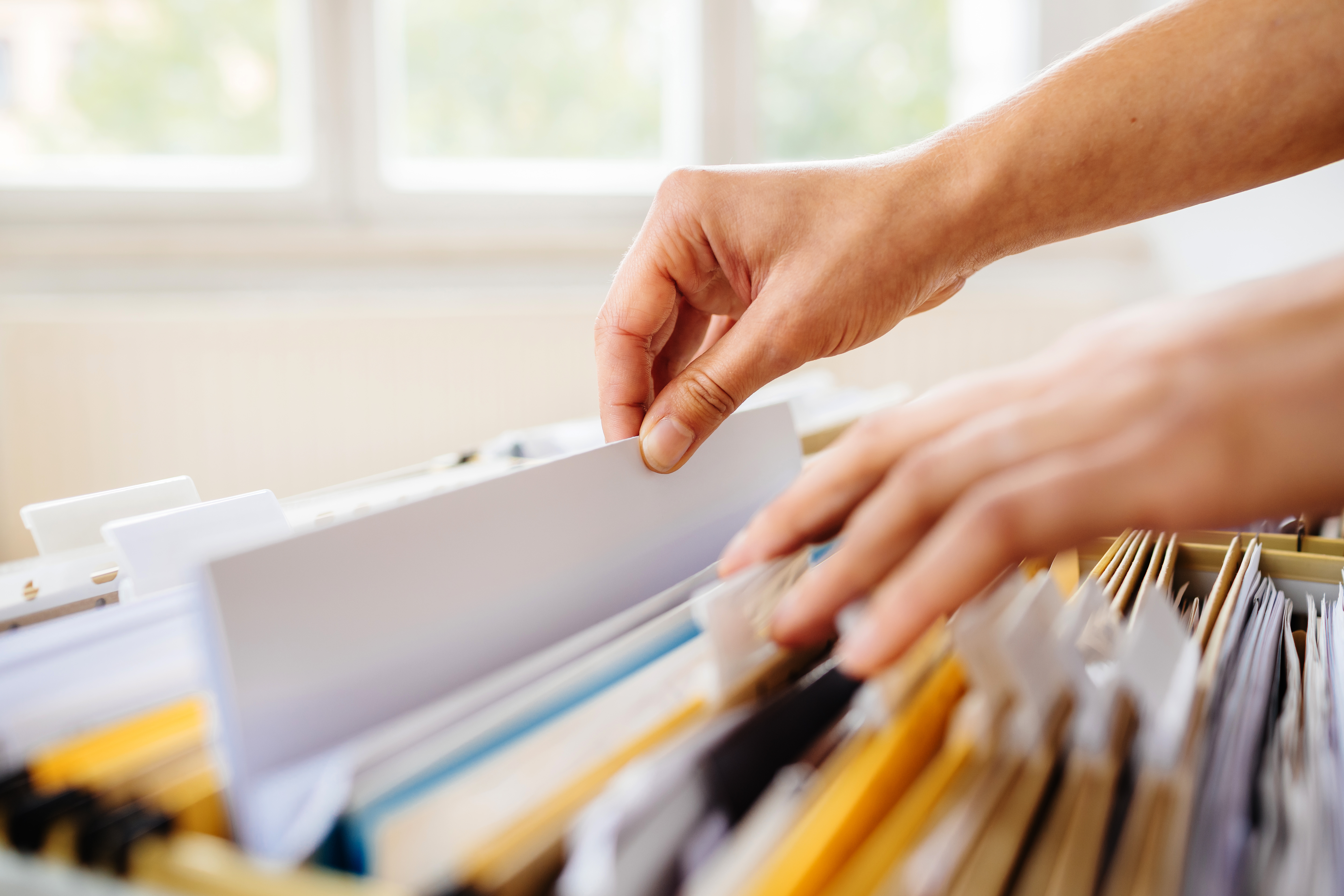 Does your desk look like an explosion at the Post-it® factory? Sticky notes here, randomly jotted down phone messages there, loose papers everywhere? In a fast-paced work environment with a thousand moving pieces, staying on top of your to-do list can be extremely difficult. Keeping everything organized can improve efficiency and your ability to stay focused, but it's not like we can snap our fingers or call the organization fairy, right? Well, your next step towards a more peaceful and navigable work environment might just be the Tickler File system.
What is a Tickler File?
If you've never heard of it, the name likely sounds a bit ridiculous. The Tickler File is an organization tool that utilizes a daily filing system to keep all of your endless tasks in one place. So no need for those pesky sticky notes cluttering up your computer screen! 
The idea essentially began in law offices in the early twentieth century, where small task cards or "tickler cards" would be filed by date and then distributed to lawyers as legal tasks. In larger firms, a single person would be assigned the maintenance and follow-up of this file, distributing tasks and ensuring their follow-up, which could be recorded on the cards for billing and documentation. The system provided a way to send a reminder to someone, thus, "tickling" their memory. 
The Tickler System made a bit of a comeback in recent years after quite a few self help authors swore by it. Now, many top administrative professionals rely on this as an add on to their digital tracking tools.
Tickler File Benefits
Speaking of digital tools, we all know that technology can occasionally fail us. That's why having hard copies of your tasks or documents is so important and in the case of an internet outage, your Tickler File can really shine. Here are some other benefits of incorporating this tool into your routine:
Saves time

Makes tasks easier to digest

Keeps you focused

Helps you prioritize tasks

Keeps desk space organized

Allows you to store whole documents versus just a date on a calendar or a bulleted list

It's easy to find and less likely to lose (unlike that sticky note with that important phone number that fell between your computer and the back of the desk that one time you spilled your coffee)
How to create a tickler file system 
It might sound a bit confusing at first, but ultimately putting together your filing system will be relatively quick and easy! 
Get 44 file folders (yes the typical recommendation is 43. See step 2!) 

Label 12 of the file folders "January" through "December" and 31 of the folders"1″ through "31" for each day of the month. Pro tip: Label folder number 44 "Urgent" and place it at the very front of your file system. Items in this folder are meant to be reviewed at the start of your day before you open that day's folder and revisited throughout the day until it's empty.

Get a box or cabinet to store your folders 

Place the box at a location near your desk so it's always close by
This is a basic setup which means it's inexpensive and uses pretty minimal space. Want to jazz it up a bit? Choose different file folder colors and a unique storage box!
How to use a tickler file system effectively
Tickler File documents might include follow-up reminders, to-do lists, bills, invoices, travel receipts, hotel reservations, birthday reminders or any other papers that require future action. You can also use it to remind yourself of recurring tasks like reordering sticky notes at the end of each week – you will likely need to adjust this because you won't be using as many sticky notes now! Just write yourself a note on a piece of paper and place it in the correct folder.
Getting started is easy! Put tasks or items (on paper) that need to be done by particular days into the corresponding days' folders for the current month. If you order printer ink on the 10th of the month, place the order form (or a note with a reminder to order online) into folder number 10. Place any tasks that are due more than 31 days out in the corresponding monthly folder.
Your daily routine with your new Tickler File should go something like this:
After you grab your cup of coffee and get settled at your desk in the morning, check the "Urgent" folder and the folder that corresponds to whatever day it is, which will be at the front of your file. If it's the 17th day of the month, folder number 17 should be at the front, filled with all of the items and documents you need to complete that day. At the end of the day, place any unfinished tasks into tomorrow's folder. Move the empty numbered folder to the next month and start filling it with tasks. Pro-tip: Double check your urgent folder before you leave for the day.
Who can benefit from using a Tickler File System?
Well, simply put, anyone. Tickler Files have been bailing out everyone from administrative professionals to lawyers and even stay at home moms for years. This system truly is designed as an easy-to-use, easy-to-implement, easy-to-maintain solution. So whether you're responsible for keeping yourself, an executive, an entire team, your family, or all of the above on track, the Tickler system is going to be a game changer! If you've already mastered this tool, here are some additional ways to get organized at work!
Are you already an organizational expert and Tickler System guru? You might be a great fit as an executive assistant. Take a look at the administrative professional jobs we have available right near you or review a breakdown of an Admin Assistant's job description.