June 28th, 2017
How To Stand Out to a Recruiter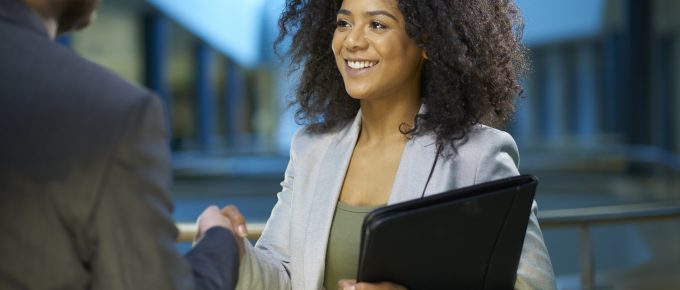 Research into how people found their most recent job reveals that about 85 percent of critical positions are filled by networking of some sort. A separate study shows that half of all jobs are not publicly advertised. So job seekers should establish relationships with people who know where to find "hidden" opportunities. That's where a recruiter comes in.
Recruiters often receive hundreds of applications for a given job. From there, recruiters must narrow the field to four to six candidates. Meanwhile, 50 percent of recruiters say they still can't find enough qualified candidates for open positions.
The following tips help grab the attention of busy recruiting professionals by showcasing yourself in the best light.
Connect Effectively
A recruiter at a career event, like a job fair, might meet 100 or more eager candidates in a single day. Which ones will they remember? Those who come across as confident and assertive. Prepare to initiate conversation, make eye contact, smile and introduce yourself with a firm handshake. Have hard copies of your resume handy. Doing so gives the recruiter a means of quickly reviewing your background on the spot. When wrapping up, ask for the recruiter's business card or email address so that you can follow with a personal thank-you note.
Be Truthful with the Recruiter
A recruiter wants to know practical information relevant to a position. Information like salary expectations, willingness to relocate, and availability to start. Don't waste anyone's time by changing your requirements after the recruitment process has started. You shouldn't gloss over or conceal weaknesses in your background either. Keep in mind that recruiters ask questions that employers likely want answered. It's better to be honest on the front end of the process. Honesty is better than being perceived as potentially underhanded when facts come to light during later stages.
Quantify Accomplishments
Your resume should list — and you should be ready to verbally explain — work-related activities that set you apart. Did you implement a new process that saved money for a current/former employer? If so, state how much over a given period of time. For less tangible accomplishments, like volunteering to compile monthly status reports for your group, be sure to describe the benefit of your actions. For example, did you provide valuable information to supervisors?
Get Creative
A visually interesting presentation of your talents can make a big difference in getting a recruiter's attention. Think outside the proverbial box-style resume and cover letter with imaginative graphics that help tell your story. Consider photos, infographics or flow charts. Charts that not only convey what you've done but also highlight your ability to communicate in an effective way.
BLOG | How to Stand Out to a Recruiter via @ajilon: http://ajilon.co/2ueLb0f

Click to tweet
LEVERAGE CONNECTIONS
Do you know someone at the hiring company? Check LinkedIn to see if any of your connections work at the desired company. You can also search for alumni from your college who are current employees. Citing contacts opens up new avenues for personal references, streamlining the recruiter's due diligence. What's more, your research demonstrates resourcefulness — a trait that's highly valued by recruiters and hiring managers across industries.
ASK THE RECRUITER THE RIGHT QUESTIONS
At the interview stage, recruiters gauge your interest in a position by the depth of questions you ask. For instance, it's not that impressive to inquire about a company's annual revenue. Instead, probe for the "insider" perspective on what it's like to work for the company. Employment author Peter Weddle suggests asking how work gets done inside the organization.
Click here for more career and job-seeking advice.