October 24th, 2018
How to Get Promoted When You Work Remotely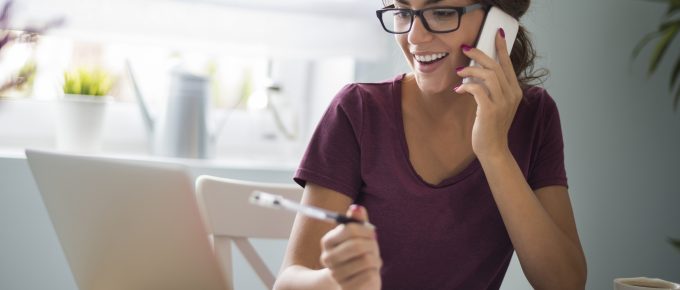 Working from home is no longer a rarity – IWG reports that 70 percent of professionals work remotely at least one day a week. And 53 percent of professionals work remotely for at least half the week! The arrangement has many advantages, such as providing better work/life balance or a much shorter commute. Still, being "out of sight" poses a real challenge to your career. Your contributions may go unnoticed by others and jeopardize your chances of getting a promotion.
The Keys to Getting Promoted While Working Remotely
The keys to growing your career while working remotely is to be much more proactive in your communications. Be diligent about delivering work that continuously demonstrates added value. While you may think this means sending a few more emails to your colleagues or your boss, it's going to take much more than that to ensure you aren't overlooked when it comes time to pass out promotions. Here are some ways to keep yourself visible and vital to your team and to your boss:
Listen carefully.
We're all distracted these days, whether it's because of dinging texts and emails or the open-concept offices that make you feel like you're working on an airport runway. If you become someone who listens closely – in videoconferences, in phone calls and webcasts – then you will soon pick up what is important to your boss and to individual team members. That's the time to follow up with a personal phone call – there is nothing more powerful than the human voice saying, "How can I help?" to put you on firm footing with your colleagues and your boss.
Always offer value.
By listening carefully and then following up, you'll be better able to pinpoint how you can really add something worthwhile. If a colleague is struggling with productivity, tell him about a new app you've found that you believe can help – and offer to walk him through it. Or, let the boss know that you've come up with some ideas to cut the travel costs that are concerning him. Challenge yourself through classes (online or in-person) in areas such as technology or business. Your up-to-date knowledge will enable you to offer timely advice and insights to help others.
Be accessible.
Make sure colleagues and the boss know when you'll be available by phone or email. While you don't have to be on call 24/7, unless that's part of your job description, you do need to have set times when people can reach you. You can use online scheduling to show them your calendar week-to-week if it might change. If you know your team will be working late to meet a deadline, assure them you are available should they need you. As often as possible, try to get to the office when you can, even if it's only for a day. Always try to attend the office holiday party or the summer barbecue, as this gives you the opportunity to deepen the bond with your colleagues and your boss.
Provide status updates.
Even if the boss doesn't ask for them, spend time every week giving the boss an update of what you've completed, where you stand on projects and timelines for completing work.
Brag the right way.
When you're in an office, it's obvious to others that you're working. But when working remotely, you must put yourself in front of others. Offer to give online presentations, or start a blog where you post on industry happenings or offer insights about issues that affect your co-workers. Putting helpful links on Twitter and Facebook also can help you be seen as a thought leader.
BLOG | How to get promoted when you work remotely: https://ajilon.co/2OM9u4k via @ajilon

Click to tweet
Just doing your job isn't going to be enough when you work remotely. You need to develop a game plan that will demonstrate your worth as an employee and as someone who deserves a promotion if you want to grow your career.
If you don't think your current company values your contributions, it might be time to consider a change. Work with us to maximize your career potential.