March 1st, 2017
5 Tips for Getting on the Executive Fast Track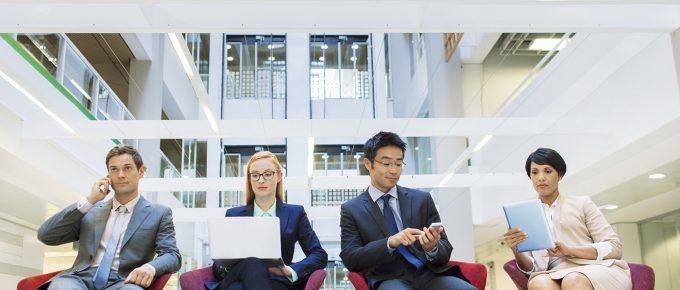 Some employees have the innate capacity for excellence known as talent. Trouble is, only about 10 percent of workers are talented enough to significantly drive a business toward higher productivity and profitability.
So if employees can't actually acquire talent, what can they do to advance professionally? What can younger personnel, with their sights set on the executive fast track, do to get started?
Of course, given enough time and experience, they can develop specific skills and build job/industry knowledge. But for those who want to land in leadership roles sooner rather than later, here are five ways to quickly climb up the organization chart:
1) PLOT YOUR CAREER PATH
Many aspiring fast-trackers waste time and effort bouncing along in a series of lateral or slightly upward moves. It's better to implement a defined roadmap as early as possible, career coach Ford Myers tells Forbes. "A smart person will have a long-term career plan, which focuses on where they want to arrive at the pinnacle of their career," Myers adds. It should include the interim steps needed to get to the ultimate position, with enough latitude to make adjustments along the way.
2) HANG WITH THE RIGHT PEOPLE
The "law of association" can work in your favor, according to Kevin Delaney, a 20-year HR veteran with Silicon Valley high-tech firms. "If you want to get promoted, then associate with those in your field who have been promoted," he explains. "They've done something right. Habits rub off. Be intentional about spending time with the very best and you will become more like them."
3) TACKLE HIGH-VALUE PROJECTS
Study the preferences and goals of direct supervisors, group leaders and the company as a whole, advises leadership consultant Gayle Lantz. Those who get ahead go beyond what other employees are doing. "They're motivated and [show] that they want to learn what it's like to be at the top," says Lantz. Taking on higher-level projects outside your job description is a great way to gain insight into corporate priorities and get recognized.
4) THINK ABOUT UNIQUE SOLUTIONS
Billionaire capitalist Mark Cuban predicts that, as automation ramps up across industries, the next breakthrough job skill will be creative and critical thinking. James Kerr, an expert on organizational design, agrees it's advantageous to challenge the status quo. Seeking alternative ways to get a job done can create opportunities to shift paradigms within your field, observes Kerr. He recommends finding a trusted mentor within your organization and talking through your ideas with that person.
5) ANSWER WHEN OPPORTUNITY KNOCKS
At age 23, James Adamy was a sales rep for a large pharmaceutical company. By age 30, he had risen through the ranks to a director position. He advocates looking for chances to stand out — and not letting fear hold you back. "For example, [during] company conference calls or large meetings where CEOs, GMs and VPs are in the room or on the line asking for feedback, say something," Adamy counsels in an interview with entrepreneur John Rampton. "Be the wolf amongst sheep [who] confidently speaks up to share something valuable and thought-provoking."
BLOG | 5 Tips for Getting on the #Exec Fast Track: http://ajilon.co/2l5o0VV via @ajilon

Click to tweet
While working on your career advancement strategy, it helps to have reliable salary information for positions along your projected career pathway. Access the most recent data, plus job descriptions and expert insights with Ajilon's 2017 Salary Guide. Click here to request your copy.