February 24th, 2016
4 Ways to Capitalize on Your New Employer's Onboarding Process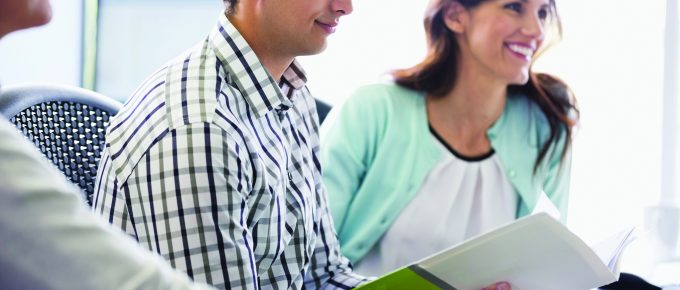 Onboarding sets the stage for your new job—both from your employer's perspective and your perspective—but did you know it's also critical to long-term success?
Employers are constantly working to improve their onboarding processes. They want to make you feel welcome, get you acclimated with their culture, processes and technologies, and let you know what's expected, but the depth of onboarding processes varies wildly. Whatever the depth, there are four things you can do to maximize the benefits of the onboarding process and set yourself up for long-term success.
1. Find someone knowledgeable and nice to answer your questions.
Shadowing a friendly, seasoned pro on your new team is a proven way to learn characteristics of a successful employee. Some employers have a mentoring program for their new hires, and will assign you to an individual. But if they don't offer this perk, don't be shy about requesting it—or at least forming your own work friendship. Once you've established this relationship, make sure to ask more than random, one-off questions (although some of those are fine, as long as you're not being annoying). If your new friend, mentor, or whatever you prefer to call them, doesn't have a jam-packed calendar, set up a weekly "catch-up" meeting where you can get their full attention. One thing to keep in mind is that it's a two-way street: your mentor wants to learn from you, too. Provide feedback and let them know how much you appreciate their help.
2. Identify opportunities where you can make a quick impact.
Set a powerful precedent. Find projects or opportunities where you can make a positive impact on your team and gain visibility as a crucial contributor. What are some items on your team's radar or on your manager's list that need to be accomplished in the near future? Take on a couple of those tasks, understand the expectations and scope, and deliver! Your team will thank you, and you will have hit the ground running. Just remember not to step on toes or rub your fresh coworkers the wrong way in the process.
Hit the ground running at your new job - get the most out of your company's onboarding process! More on the blog: bit.ly/24pgFhu

Click to tweet
3. Build a rapport with a variety of coworkers.

Avoid eating a sandwich alone at your desk; spend that time developing relationships with your coworkers, whether it's in their office, in the breakroom or even outside of work. And be observant during these times. How do your team members interact with one another? How do they balance work and socializing? Every workplace has a different cultural dynamic, and learning yours will help you fit in quickly and more comfortably. Oh, and don't be intimidated by titles or hierarchy. You never know how the relationships you forge now can help you move up later.
4. Learn what's working and fix what's not.
Take advantage of one-on-one conversations with your manager to get constructive feedback. Build further on the strengths discussed and be open to suggestions on areas of opportunity. Remind yourself to take any critical feedback graciously, and work on it immediately. In addition to your formal goals for your company, take the time to create your own list of short- and long-term goals for your role, even if you already have an assigned list. This will serve as a constant reminder that you must continue to be proactive, enhance your skills and make an impact.
Effective Short-Term Onboarding = Successful Long-Term Work
As you can see, don't take onboarding lightly. Don't walk in half asleep and breeze through the process. That'll accomplish nothing but setting a negative tone from which it's difficult to recover. Instead, take onboarding seriously. Put into action the four aforementioned tips to set a positive tone from which it's easy to build.