February 25th, 2014
Professional Staffing Salary Guide & 2014 Trends: Ajilon's Roundtable Recap
Last week, Ajilon hosted a virtual roundtable via Google+ to discuss our Salary Guide, as well as our industry's trends and predictions for the upcoming year. In our verticals, we're seeing a rise in demand. Just to provide an example, in our roundtable we touched on a new trend spotted in non-clinical healthcare. Ajilon is noticing a trend revolving around data and the demand for candidates in the healthcare IT space who can work with and process that data.
During our roundtable, Ajilon's team of staffing professionals provided their insight on trends in HR, supply chain and logistics, and non-clinical healthcare. To those of you that hung out with us, we thank you and hope to see you at future roundtable hangouts; but for those of you that missed out, you'll find a few highlights from our discussion below.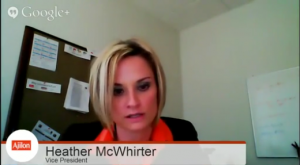 On Recruiting the "Right" Candidates
"Linkedin specifically is used a lot. We've actually used this instead of resumes for some of our clients because it does allow them to review recommendations… and it really kind of showcases how well-rounded they are just outside of work in general." – Heather McWhirter, Vice President
On Candidate Qualities in Supply Chain & Logistics
"To be frank, it's about mobile connectivity having digital competency, being flexible, willingness to learn, and adapting to new software." – Matilda Anderson, Digital Marketing Manager
On Recruiting Millennials
"Millennials have a big push for a work/life balance, which is not something we've seen in prior generations. They want companies they can believe in. People are doing just as much research about the company as the company is doing about the candidate. I think an ideal company is flexible, offers possible work at home opportunities, places where you can have a work/life balance (maybe alternative hours?), and also first & foremost, competitive pay." – Emily Betz, Senior Proposal Specialist
The Ajilon Professional Staffing team is eager and excited to share their knowledge with leaders in HR, non-clinical healthcare, and supply chain and logistics, and will continue to do so with additional upcoming roundtables. Stay tuned by following us on Google+ for important roundtable announcements and industry insights.
You can check out the full roundtable below; if you have any questions, we'd love to hear from you in the comments! You can also visit our website to find your local Ajilon branch.