February 5th, 2016
Ajilon Professional Staffing Jobs Report: February 2016
January added 151,000 new jobs to the economy and the unemployment rate is the lowest since 2008.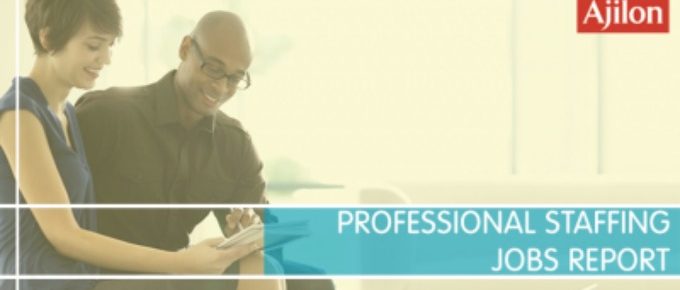 An employment summary based on the U.S. Bureau of Labor Statistics' (BLS) February 2016 monthly jobs report.
Nonfarm payroll employment rose by 151,000 in January – lower than the number of jobs added in December. The unemployment rate is at a low 4.9% – the lowest since 2008.
Job gains occurred in several industries, led by professional and business services (+9,000), professional and tech services (+7,000), health care (+37,000), and food services and drinking places (+47,000). These industries have led the way in job creation the past year. 2015 remains the second best year in for employment gains since 1999, with 2.65 million total jobs added.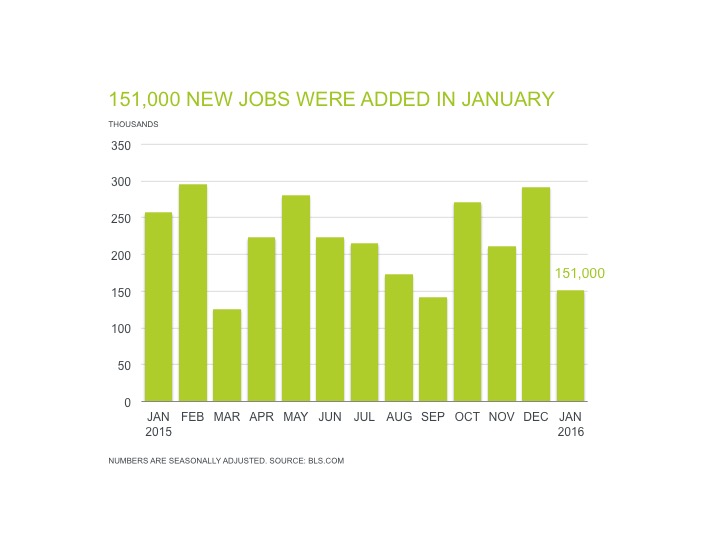 In January hospital employment added 24,000 jobs. Health care as a whole has added 470,000 jobs over the past 12 months, and approximately two-fifths the growth occurred in hospitals.
Here are recent employment gains in healthcare, according to BLS.
January: +37,000
December: -4,900
November: +23,800
Here are recent employment gains in professional and business services:
January: +9,000
December: +60,000
November: +48,000
January added 151K jobs to the economy! Read more on the @ajilon blog: http://bit.ly/1Pbotvp

Click to tweet
What employers are looking for
Recruiters are looking for job candidates who possess the following:
In Healthcare: A knowledge of latest medical coding systems and a proven track record
In Supply Chain and Logistics: Experience in RFID technology and knowledge of the Internet of Things in the industry
In HR: Additional skills in social media and HR make for sought-after job candidates.
Here are the latest average salaries for key industry positions.
Human Resources Manager: $96,036
Office Manager: $64,867
Demand Planner: $63,534
Executive Assistant: $56,109
Purchasing/Procurement Clerk: $40,574
Administrative Assistant: $40,031
Medical Biller: $36,683
Key considerations for both jobs seekers and employers
But if you're looking for a job, what are some of your considerations in deciding which industries you may want to work in? And if you're an employer, how are your selling points changing amid the new developments that are affecting the business climate? Does your company belong to a high growth industry such as supply chain and logistics, healthcare, or professional and business services?
There are signs that 2016 may be a lot different than the last couple of years—2014 and 2015 certainly saw robust employment gains for American workers. Last year, the U.S. economy created 2.65 million new jobs, the second best year in employment gains since 1999. But the economy also appears poised for another recession in 2016, according to a few Wall Street firms and prominent business figures.
Supply Chain and Logistics professionals, HR Managers, and Medical Billing and Coding professionals will need to continually acquire new skills to stay relevant to their employers. Many companies are eager to implement better business practices that improve their global competitiveness.
To see the latest salary figures, request our free Salary Guide.