May 5th, 2016
160,000 Jobs Added to the Economy in April
The Latest Numbers From the BLS Employment Situation Report
Economists predicted another month of 200k+ job additions ahead of this morning's jobs report but the latest data told a different story. The Bureau of Labor Statistics announced 160,000 jobs were added in April and while this was below expectations, we still boast 65 straight months of positive job growth. Employment growth has averaged 232,000 per month.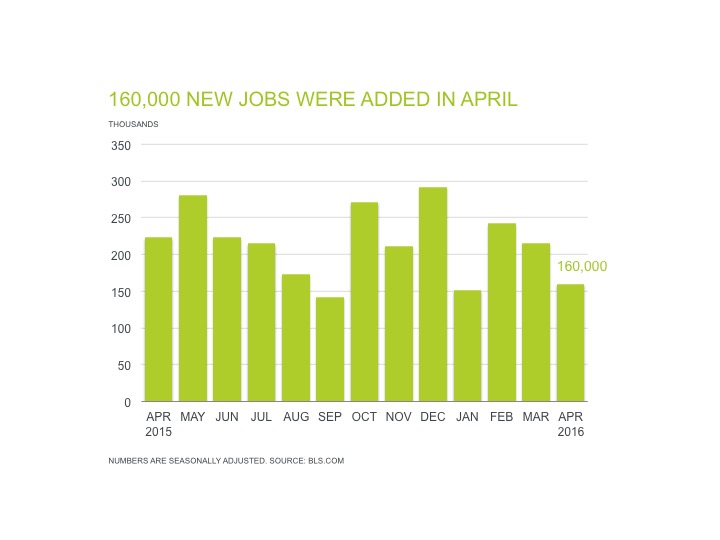 Economists, and of course the Federal Reserve, were also keeping a close eye on this month's wage growth. Wage growth has been one of the last and slowest pieces to labor-market recovery and a rise in wages would give the Fed  more confidence in their 2% inflation target. It also suggests that consumer spending will continue to drive economic growth.
Let's break down the numbers from this month's report:
 Wages:

$25.53 April
$25.43 March

+ 8 cents month-over-month

+2.5% year-over-year

Unemployment:

5.0% April
5.0% March

+0% month-over-month
-0.4% year-over-year
In April, hourly wages rose $0.8 to$25.53 per hour, bringing the year-over-year wage percentage increase to 2.5%. The unemployment rate now sits at 5.0%.
#HealthCare and #Administrative Support are top performers in this month's #JobsReport. @ajilon's analysis: ajilon.co/1UEEq1I

Click to tweet
In-Depth Look: Our Industries
Let's dive right into a look at how our industries compare to the national numbers:
Professional and business services

Month-over-month change: +65,000
606,000 jobs added since April of last year
 Construction

Month-over-month change: +1,000
+261,000 jobs added year-over-year
 Manufacturing

Month-over-month change: +4,000
-19,000 jobs lost year-over-year
Transportation and warehousing

Month-over-month change: +8,600
+61,900 year-over-year job gains
Health care

Month-over-month change: +44,000
+502,000 jobs added since April of last year
Hospitals

Month-over-month change: +22,900
+194,400 jobs added in the last year
Administrative and support services

Month-over-month change: +29,100
+245,700 jobs added year-over-year
The market remains extremely competitive for employers hoping to hire top HR, non-clinical healthcare and supply chain and logistics professionals. But there are some things you can do to establish your business in the marketplace as a great place to work. You might be surprised to hear that salary isn't the only ammunition in the war for talent. 
Get Free Updates
Sign up for updates about our newest content and workforce insights!