February 10th, 2014
Links in the Chain: The Trends, Tech and Talent Shaping Supply Chain & Logistics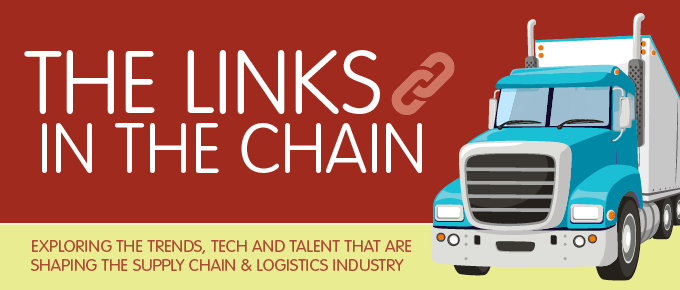 An estimated $1.331 trillion was spent on supply chain & logistics in 2012. This rapidly growing industry is expected to grow +9% globally every year until 2017, creating 27,800 new jobs by 2020. To keep up, exploring the trends, technology and talent that are shaping supply chain and logistics is key.
Successful companies are making a huge effort to keep up with the ever-changing technology in supply chain & logistics.  Technology is maximizing cost savings and ensuring optimal levels of productivity. Here are a few technology trends you should be aware of.
Mobile Connectivity
Today's cell phones and tablets make it possible to manage every link of the supply chain from anywhere, and high-speed data allows everyone to be on the same page at all times
Digital Imaging & Portable Printing
Tablets and laptops with integrated cameras can capture proof of delivery, verify product conditions and visually record potential problems. Portable printing solutions allow customers to instantly sign for delivery receipts, purchase and work orders and other forms of documentation.
Radio-Frequency Identification (RFID) Systems
RFID systems track and trace solutions. Inventory can be tagged and logged without direct line-of-sight access, saving countless hours of mundane work by eliminating the need to physically scan labels.
2-D Barcodes
To compliment (or replace) RFID, 2-D barcodes can be used. These barcodes contain tons of information in a small space. Barcodes are not proprietary and many inexpensive scanners are available, which reduces training and overhead costs.
Real-Time Location Systems (RTLS)
RTLS provides accurate indoor tracking and navigation. No need for drivers or forklift operators! RTLS increases productivity and ensures driver and warehouse worker safety.
---
In our infographic below, we discuss the ten most in-demand supply chain & logistics professionals and how management can connect with these hard-to-find candidates.
To learn more about what is shaping the supply chain & logistics industry, request your free copy of our new white paper: "Changes in the Chain: The Tech, Trends and Talent that are Transforming the Supply Chain & Logistics Industry"!

Embed our infographic on your site using the embed code below!