July 21st, 2014
5 Key Takeaways from the SHRM 2014 Annual Conference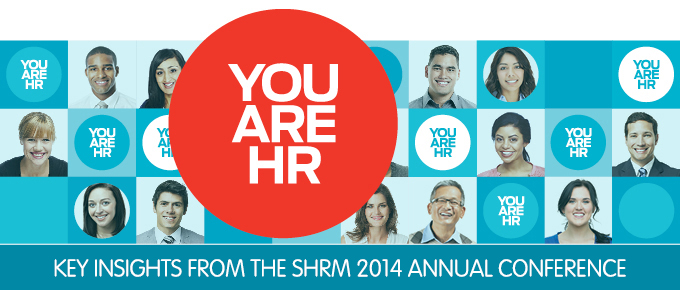 From June 23rd-26th, Orlando, Florida found itself home to 13,000 more HR professionals. The annual Society for Human Resource Management (SHRM) conference was brimming with excellent HR insight for talented professionals in the form of daily sessions, use of the #SHRM14 Twitter hashtag, and the (extra large) exposition.
Though we'd love to give you a full rundown of all the sights & sounds of SHRM – we could be here all day. That's why we've hand selected five of our favorite quotes from some of the great keynotes and speakers at this year's conference to spread some of this outstanding insight to you.
"They [Employees] are so committed to [the brand] that they'll advocate for it and defend it against attacks. This is powerful and is what makes brand equality such a valuable asset." – Americus Reed II, marketing professor at the University of Pennsylvania
We love this quote from Americus because it's a simple truth. Treat your employees well, give them what they need and want out of their employer, and you have found your most loyal stakeholders. These are the people who will stick by you through thick and thin – the folks who will share the facts about your company and its culture to their family, friends, and neighbors. Not to mention… It's excellent brand PR without the price tag of a fancy PR agency.
"Maybe it's time to stop thinking about changing the way the world sees us and our profession, and to start transforming ourselves inside the profession." – Bette J. Francis, SPHR, SHRM Board Chair
In the above quote, Bette J. Francis references getting a seat at the executive table, which can definitely be a challenge (even our own CHRO admitted to that). Francis notes that she is quite aware of this frustration, but at the same time, we as HR professionals cannot expect the C-Suite to approach us. Find out their interests, get out of your own comfort zone, and meet with these folks one-on-one to increase your face-time and influence.
"You can share ideas just as easily as you can process paperwork," says Francis. It's important to make these ideas known. Take a problem your company faces and offer a solution. By bringing this idea to the executive table in a confident manner, you gain a sense of respect and create a strong voice for your HR department. By giving a voice to your HR department, you are giving a voice to every employee in your organization.
"Average is officially over." – Thomas Friedman, author & three-time Pulitzer Prize winner
This quote sent the #SHRM14 Twitter hashtag a blaze! So many HR professionals were tweeting and retweeting this pertinent quote from Thomas Friedman, who spoke Monday, June 23rd.
Friedman was referencing the fact that due to the redefinition of the economy and education, in addition to squeezing out high-waged, middle-skilled workers, the idea of an average workplace is now gone; furthermore, workers in this world are going to face some serious challenges because we're so hyper-connected to each other.
No longer is just being "not routine" enough. Creativity has to be there. Adaptability should be there, too.  It's important for today's workers to find their own personal "extra," as that extra is what's going to show employers that they are valuable – either as a job seeker trying to get hired or current employee pushing for that promotion.
Don't let software replace you as an HR professional. The technology is there, but the most important aspect of HR is that it's human resources. Take the information you have, share it and implement it. Illustrate your value to your manager, CHRO, your employer as a whole. Show that you're much more than average to thrive.
"Optimism is a muscle that gets stronger with use." – Robin Roberts, Good Morning America anchor
One of America's most loved and most talked-about news anchors was the perfect keynote for SHRM. Though she may not be an HR professional, she was one of the most uplifting and inspiring professionals out there, who shared her own personal story of illness and triumph with millions of her most loyal viewers.
If anyone knows anything about optimism, it's Robin Roberts, so it's best to heed her advice. Staying optimistic as an HR professional – especially as an HR leader – is important for your department and your company as a whole.
HR can get hit hard as companies make unpopular decisions – including moving offices, issuing layoffs, and changing benefits packages. It's unfortunately up to the HR department to keep the momentum of positivity and productivity throughout the company.
Without happy people, work usually gets done at a much slower pace – if it gets done at all. However, by continuously being that beacon of positivity and perseverance for a brighter future (basically, exercising that optimism muscle), your team can be the heartbeat of your organization, pumping that optimism throughout all departments and employees.
"How I treat my customers and how I treat my employees – I have to do both the same way."  – Walt Kurlin, Disney facilitator for business programs
At "The Happiest Place on Earth" it's important to keep your employees happy so they can in turn keep your customers happy. Disney's current employee mission statement is (surprise!) "create happiness."  Though this sounds fairly simple, the task is almost as large as Space Mountain itself!
Disney's HR department says the key lies in teaching employees to go above and beyond, preparing for the unexpected, leading by example and always make it look fun. Keeping these goals in mind, much like you would keep a specific list of goals in mind for their customer, helps Disney continuously maintain their image of enchantment and whimsicality.
One great example that Disney touted during their presentation were the fact that Kurlin picked up trash walking through the Magic Kingdom, despite the fact that it's not his job, thus proving he is not above anything or anyone in his organization. This shows the team player spirit, which is important for an organization with 60,000 workers. The other excellent example is Disney calling all members of their staff – from janitor to parade dancer – "cast members." This tactic is excellent for building a culture and once again maintaining the imagination and wonder of Walt Disney World.
Want more insight from the SHRM 2014 Annual Conference?
For additional information about the speakers and events that happened during the SHRM 2014 Annual Conference, check out the publications section on their website. The SHRM Conference Daily was a great paper delivered right to the hotel rooms of SHRM attendees every morning of the conference. In each paper, there was an overview of the previous day's speakers and a list of happenings for that upcoming day.
We'd like to commend and congratulate the SHRM team on such a well-executed and exciting conference! We can't wait to see what they have in store next year in Las Vegas!
| | |
| --- | --- |
| | Show the World that You are HR with Insight from Our New White Paper |
| | While at the SHRM 2014 Annual Conference, we handed out hundreds of copies of our new white paper, "Social Media Opens New Doors for HR Professionals" at our You are HR booth. This white paper helps HR professionals build their personal brands, while also building a high-quality talent pool on popular social media platforms like Twitter and LinkedIn. This white paper also touts several top HR professionals and where to find them on social networks, allowing you to get ahead and connect with insightful professionals in the HR space. |